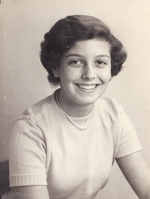 Georgiana K. Tolson (Georgie), 80, of Piney Point, MD formerly from College Park, MD passed away on April 25, 2017 in Mt. Airy, MD. Born on November 21, 1936 in Baltimore, MD she was the daughter of the late Elizabeth Lee (Kirtley) Parks and St. Clair David Kirtley. Georgie was the loving wife of the late Julius Warren Tolson, Sr., whom she married on October 4, 1958 and who preceded her in death on April 16, 2015.

Georgie is survived by her children: J. Warren Tolson (Rena) of Laurel, MD, Elizabeth Bruffey (Brian) of Mt. Airy, MD, and 5 grandchildren: Brian, Julia, Patrick, Joseph and Matthew. As well as, her sister Mary St. Clair Slaughter of St. Petersburg, FL. She is preceded in death by her sister Elizabeth Lee D'Entremont.

Georgie graduated from Northwestern High School, College Park, MD in 1953 and earned a Bachelor's of Science in Nursing from the University of Maryland in 1957. She worked as a registered nurse for 45 years. She moved from Silver Spring, MD to St. Mary's County in 1991 and worked at St. Mary's Hospital where she then retired from nursing in 2005.

As a professional nurse for most of her life, she was involved with numerous nursing organizations. During her leisure time she was an avid reader and was quite gifted in sewing and knitting. She loved to swim and go on long walks. For most of her youth she was involved with Girl Scouts of America. In her retirement she loved welcoming family and friends to their cottage at Piney Point and spending time with family.

The family will receive friends on Monday, May 1, 2017 from 5:00 PM-8:00 PM with prayers recited at 7:00 Pm in the Mattingley-Gardiner Funeral Home, Leonardtown, MD. A Mass of Christian Burial will be celebrated on Tuesday, May 2, 2017 at 11:30 AM in St. George Catholic Church with Father Paul Nguyen officiating. Interment will follow in the church cemetery. Pallbearers will be: Joseph Tolson, Brian Bruffey, Patrick Bruffey, and Matthew Bruffey. Honorary Pallbearers will be Julia Tolson. Arrangements by Mattingley-Gardiner Funeral Home.