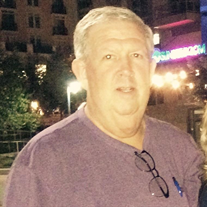 Jeffrey "Jeff" Manuel Gomes, 59, of La Plata, MD passed away at his home in La Plata, MD on April 19, 2017. He was born on November 6, 1957 in Pittsfield, MA to Marcelyne and the late Manuel Gomes, Jr. Jeff was of the Catholic faith. He graduated from Taconic High School in 1975 and served a Journeyman Apprenticeship at The Berkshire Eagle in Pittsfield, MA. He was an Operations Manager at AGS and the Maryland Independent and was the plant manager at McArdle Solutions. He was in the printing business for 40 years.

In addition to his mother he is survived his long-time companion Jean Taylor, four sons; Richard Gomes, Pittsfield, MA, Joshua Gomes (Christine), La Plata, MD and Jeremy Gomes (Katryn), La Plata, MD, one daughter Shannon White (Steve), Pittsfield, MA, eight grandchildren; Cassie Winn, Savannah White, Sharlotte White, Stephen White, Javone Gomes, Liam Hawthorn, J'Leya Gomes and Julian Gomes, one brother Michael Gomes, Pittsfield, MA and three sisters; Christine Gustitus, Pittsfield, MA, Sharon Moore, Pittsfield, MA and Amy Merenda (Steve), Orlando, FL.

There will be a gathering of friends on April 25, 2017 at Raymond Funeral Service, P.A. 5635 Washington Ave, La Plata, MD 20646 from 5:00PM until the time of Memorial Service at 7:00PM. In lieu of flowers memorial contributions are requested to the University of Maryland Greenebaum Comprehensive Cancer Center, 110 South Paca Street, Baltimore, MD 21201. Arrangements by Raymond Funeral Service.