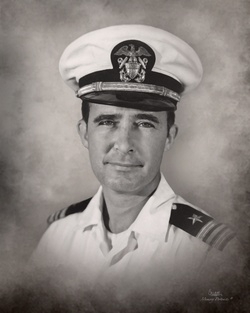 LCDR William Robert "Bill" Boxwell, USN (Ret.) of Dameron, MD passed away April 19, 2017 at the age of 91 at MedStar St. Mary's Hospital in Leonardtown, MD. He was born February 21, 1926 in Baltimore, MD to the late Charles Raymond Boxwell and Etta Marie Blanchard.

In February 1944, Bill enlisted in the United States Navy and served in the Pacific until the end of the war. He continued his service as a torpedoman for the 13 years. After earning his commission, he served as a Weapons Officer until his retirement as a Lieutenant Commander in September, 1970.

On June 11, 1949, he married his beloved wife, Theresa Ellen Boxwell at St. Mary's Star of the Sea in Baltimore, MD. Together they celebrated over 67 wonderful years of marriage. In January 1974, he earned his Bachelor of Science degree in Biology from St. Mary's College. He taught Biology at Chopticon High School and then spent eight years teaching at St. Michael's Catholic School. He also tutored fourth grade math at Ridge Elementary.

In retirement, he and his wife travelled extensively to Europe, South America and Australia from 2002-2008. His hobbies included sailing, camping, and fishing. He was a modest man with a witty sense of humor. His greatest love was for his family whom he enjoyed spending time with. He was a member of Ridge Rescue Squad for over 15 years as an EMT. He was the Chief for five years. He also volunteered many hours teaching children how to row at Calvert Marine Museum.

In addition to his beloved wife, Bill is survived by his children: David Boxwell (Imelda) of Dameron, MD, Jean Ochrzcin of St. Inigoes, MD, Robert Boxwell (JoAnne) of Lusby, MD, Edward Boxwell (Anna) of Grand Junction, CO, and James Boxwell (Debra) of Ashburn, VA; his brothers, Norman Boxwell (Barbara) of Millersville, MD and Edgar Boxwell (Caroline) of Silver Spring, MD; his grandchildren: Michael Henry, Katie Varga, Peter Boxwell, Rachel Boxwell, and Joey Virgalla; and his great grandchildren, Cooper and Harrison Varga. In addition to his parents, he is also preceded in death by his brother, Charles Raymond Boxwell, Jr.

Family will receive friends on Friday, April 21, 2017 from 5:00 to 7:00 p.m., with prayers at 7:00 p.m., at St. Michael's Catholic Church, 16566 Three Notch Road, Ridge, MD 20680. A Funeral Service will be celebrated by Reverend Peter Giovanoni on Saturday, April 22, 2017 at 1:00 p.m. at St. Michael's Catholic Church. Interment will be held at a later date at Maryland Veteran's Cemetery in Crownsville, MD.

Serving as pallbearers will be David Boxwell, Robert Boxwell, Edward Boxwell, James Boxwell, Michael Henry, and Peter Boxwell. Memorial contributions may be made to Ridge Volunteer Rescue Squad, P.O. Box 456, Ridge, MD 20680 or St. Michael's Catholic School, P.O. Box 259, Ridge, MD 20680. Arrangements by the Brinsfield Funeral Home, P.A.