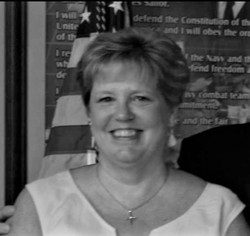 Alesha Jo Verdict, 62, of Lexington Park, MD left this world for a better one on April 13, 2017, surrounded by her loving family. Born April 11, 1955 in Kansas City, MO to the late Richard Glenn and Jeanette Lee Sappington Dickson, Alesha was raised in Fulton, MO where she lived until 1977.

Alesha's greatest joy was her family, especially her 3 granddaughters. Married 39 years to her best friend, Ewin Theodore Verdict Jr (Ted), she loved nothing more than when they were surrounded by their daughters, son-in-law, granddaughters, and granddogs. As a military spouse, she moved from Oak Harbor, WA where her children were born, to Atsugi, Japan before settling down in Lexington Park in 1991.

An avid reader, Alesha was an excellent librarian and dedicated more than 25 years to the Charlotte Hall branch of the St. Mary's County Public Library, where she recently retired as the Assistant Branch Manager. Alesha loved to sew and crochet, and the Halloween costumes, quilts, baby blankets, and Christmas tree skirts she made are treasured by the family and friends who received them. Gardening, cooking, and baking were a favorite creative outlet for Alesha. Her family enjoyed her many recipe experiments, often involving ingredients she grew herself and everyone was a willing taste-tester for her baked goods, especially bread!

In addition to her husband, Alesha is survived by her daughters, Amanda Christine Boaz (Joshua) of Richlands, NC and Natalie Kathleen Verdict of Lexington Park, MD; three granddaughters, Blake Ashley Boaz, Dylan Caitlin Verdict, and Bailey Alexis Boaz; her brother, Richard Stephen Dickson of Lee Center, NY; and many extended family and friends.

A Celebration of Life will be held at a later date. Memorial contributions may be made to Hospice of St. Mary's, PO Box 625, Leonardtown, MD 20650. Arrangements by the Brinsfield Funeral Home, P.A.