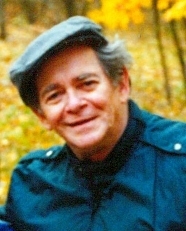 John Hooper "Rick" Beckrich of Owings, MD passed away on March 29, 2017. He was born on October 9, 1931 in Gary, Indiana to William Beckrich and Agnes Hooper Beckrich. Rick was a graduate of Lew Wallace High School and attended Indiana University, the Chicago Academy of Fine Art and The Art Institute of Chicago. He served in the U.S. Army - SCARWAF from 1950-55.

Rick spent more than 50 years as a newspaperman, including the Gary Post-Tribune, Chicago Sun-Times, Miami Herald, Seattle Times, Washington Times and Calvert Independent. In his retirement, he became a children's book author and illustrator and a beloved part-time substitute teacher ("Mr. B") for Calvert County Public Schools. In his free time, he was an avid photographer, with a focus on nature photography. He also enjoyed drawing cartoons, woodworking and watching the local wildlife.

He is survived by his wife of 53 years, Judi Beckrich and his children, Ken Beckrich and his wife Lisa of Scottsdale, AZ; Holly Beckrich of Prince Frederick, MD; and Amy Beckrich and her husband Marshall Kass of Greenbelt, MD. He is also survived by his grandchildren Marshall Beckrich and his wife Elizabeth of Colorado Springs, CO; and Kelsey Hill and her husband Jason of Lafayette, CO. He was preceded in death by his parents and his brother, Dennis Beckrich.

A celebration of Rick's life will be held May 21 from 5 to 7 pm at the Northeast Community Center in Chesapeake Beach, MD. In lieu of flowers, contributions to the Nature Conservancy would be appreciated.