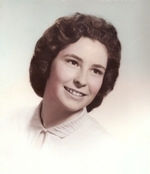 Patsy Elizabeth Reedy Ervin, 75, of Hollywood, MD died April 8, 2017 of complications from pneumonia and advanced Alzheimer's disease. She was born on December 26, 1941 as the daughter of the deceased Bayse, Sr. and Katie (Greer) Reedy also of Hollywood, MD. The family settled in St. Mary's County in the 1940's. Patsy was 10 years old when they moved to Hollywood from the famous "flat tops" in Lexington Park. Her mother and father worked in Civil Service at the NAS Patuxent River and retired in the late 1970's. Patsy attended Hollywood Elementary, Leonardtown Jr. High and High School. She graduated LHS in 1959. She and several classmates were members of the Hollywood Church of the Nazarene and very active in their schools and Church Youth Group. She enjoyed playing girls basketball and participating in choirs & ensembles, cheerleading and student government. She was part of the St. Mary's County Fair Queen's Court in 1958.

Patsy left St. Mary's County in 1959 to attend Eastern Nazarene College in Quincy, MA. There she studied Elementary Education and began student teaching in Quincy Public Schools. She returned to St. Mary's County and began teaching at the 2-room Mennonite School House in Clements, MD. Later she was hired by St. Mary's County Public Schools and taught at Lexington Park Elementary in First Grade and eventually Special Education. While retiring early from teaching to start a family, Patsy would remain very active in the PTA and the role of Homeroom Mother for many years. She was also the Children's Ministries Director for 12 years at the Hollywood Church of the Nazarene. In the 1980's she opened the Sunshine Family Daycare out of her home on Clarkes Landing Road and had many community children attend. Patsy, in the 1990's returned back to St. Mary's County Public Schools as a teacher for home-bound children. In 1998 she became a care-giver for her mother.

Patsy dated and married her long time classmate and high school sweet-heart Donald Lee Ervin, also of Hollywood, MD. Her attended the same county schools and relocated to live Quincy, MA while Patsy was attending college. They were married at the Dorchester Church in Boston, MA on January 26, 1962. They both returned to St. Mary's County in 1962 and lived in Ridge before building a home in Hollywood.

Patsy is survived by her husband Donald Lee Ervin to whom she was married for 55 years; sons Reverend Andrew Lee Ervin (Sharon Facemire Ervin) of Gardners, PA and William "Bill" Stephen Ervin of Hollywood, MD; brother Reverend Doctor Bayse "Bud" H. Reedy, Jr. (Sarah "Sally" Hoopengardner Reedy) of York, PA. She was also survived by five grandchildren: Grant Andrew Ervin of Wilmington, DE; Jessica Paige Ervin of Bethlehem, PA; Katie Elizabeth Ervin Childers (Garrett) of Macon, GA; Amber Reedy Ervin of Quincy, MA; and Hannah Leigh Ervin of Gardners, PA and niece Heather Lynn Reedy Tavares (Carlos) of Raleigh-Durham, NC.

Services will be held at the Hollywood Church of the Nazarene, 24710 Sotterly Rd., on Saturday, April 15, 2017 with Rev. Eric Folk, Rev. Andrew Ervin, Rev. Dr. Bud Reedy and Rev. Paul McPhearson officiating. The family will receive attendees beginning at 9:00 AM and a Celebration of Life Worship Service will begin at 10:30 AM. The interment will take place immediately following the service followed by a fellowship meal hosted by the Church. Contribution may be made to the Hollywood Church of the Nazarene. Arrangements by Mattingley-Gardiner Funeral Home.