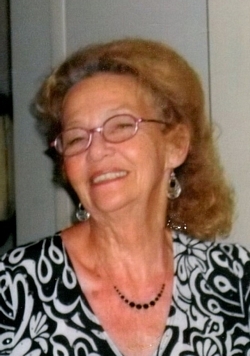 Linda Lucy "Memom" Beauregard, 73, a lifetime resident of Solomons, MD passed away on April 5, 2017 at her residence. Born July 4, 1943 in Prince Frederick, MD, she was the daughter of the late Margaret and James "Pepper" Langley. Linda graduated from Calvert High School and was a cook. She was a loving mother and grandmother and she will be missed by all who knew and loved her.

Linda is survived by her children, Sammy Gallodoro, Tammy and Shane Garner, Wendy and Ted Taylor, and Toni Beauregard all of Solomons, MD, and Andrea and Brian Haller of St. Leonard, MD; grandchildren, Nicky, John, Chris, Amber, Eric, Julia, Kevin, Shelby, Hayden and Riley; six great-grandchildren; siblings, Jimmy Langley of Solomons, MD, Tommy Langley of Lusby, MD, Billy Langley of Lusby, MD and Carol "Suggie" Stinson of Georgia. She was preceded in death by her husband, Albert Beauregard and her brother, Lee Langley.

Family will receive friends on Friday, April 7, 2017 from 6:00 p.m. until 8:00 p.m. at the Rausch Funeral Home, 20 American Lane, Lusby, MD 20657. A funeral service will be held on Saturday, April 8, 2017 at 11:00 a.m. in the Rausch Funeral Home Chapel with Deacon Chad Martin officiating. Interment will follow in Solomons United Methodist Church Cemetery, Solomons, MD. Arrangements by Rausch Funeral Home.