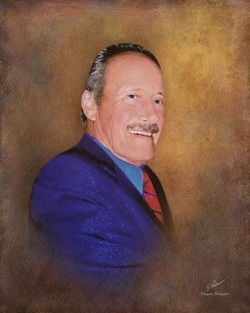 Joseph Melvin "Joe" Blair Sr., 82, of Bushwood, MD passed away on March 30, 2017 at Charlotte Hall Veteran's Home. He was born on June 23, 1934 in River Springs, MD to the late Walter Rayner Blair and Mary Gladys Bailey Blair.

He attended Holy Angels, Leonard Hall Naval Academy and graduated from St. Mary's Academy. In 1954, he enlisted in the United States Army and was assigned to the Army Security Agency as a Military Policeman until his honorable discharge in 1957. He was employed by WR Blair, Inc., Monumental Life Insurance, FP Winner and Kronheim. Everyone who knows "Joe" is aware of his love of fast boats, horses, hunting, fishing, crabbing, eeling and travelling.

Joe is survived by his wife, Phyllis A. Blair; his daughter, Catherine Blair Hanson (Mark) of LaPlata, MD; his sons: Joseph M. Blair, Jr. of St. Inigoes, MD and Richard A. Blair (Heidi) of Leonardtown, MD; his step-children: Karen Bass (Andy) of Frederick, MD, John Overbeck (Cheryl) of Fessenden, ND, and Paul Overbeck (Tracey) of Greensburg, PA; grandchildren: Heather Lowe, Stephanie Blair, David Hanson, Amanda Hanson Matheny, Alyssa Blair Owens, Ryan Bass, Kaitlyn Bass, Derek Overbeck, Ben Bigo, Jacqueline and Dylan Blair; and his great grandsons, Parker Atlas and Logan English. In addition to his parents, he is also preceded in death by his wife, Joan Oliver Blair; sisters: Catherine D. Blair and Patricia Blair Bailey and brothers, James M. Blair and Walter Rayner Blair, Jr.

Family will receive friends on Sunday, April 2, 2017 from 2:00 to 5:00 p.m., with prayers recited at 4:00 p.m., at Holy Angels Catholic Church, 21340 Colton's Point Road, Avenue, MD 20609. A Mass of Christian Burial will be celebrated by Reverend Anthony Lickteig on Monday, April 3, 2017 at 10:30 a.m. at Holy Angel's Catholic Church. Interment will follow at Sacred Heart Cemetery, 23080 Maddox Road, Bushwood, MD 20618. Memorial contributions may be made to the Alzheimer's Association, 10655 Stanhaven Place, Suite 205D, White Plains, MD 20695. Arrangements by the Brinsfield Funeral Home, P.A.