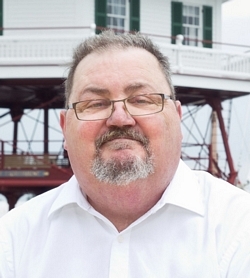 Edward Daniel "Danny" Scanlon Sr., 58, of Huntingtown passed away peacefully March 29, 2017 surrounded by family. He was born March 6, 1959 in Washington, DC to Thomas Joseph and Joan (Tavarozzo) Scanlon. Danny married Mary Lineberry on December 12, 1981.

He was employed as a construction superintendent with various construction companies. Danny was a member of Huntingtown United Methodist Church. He enjoyed classic cars, his Harley Davidson, playing golf and spending time with his family. Danny was a loved husband, son, father, brother, grandfather, uncle and friend. He always saw the good in people and sought to draw it out.

Danny will forever be cherished by his loving wife Mary Scanlon, children George Hilton and his wife Danielle of Dunkirk, Edward D. "Danny" Scanlon, Jr. and his wife Alanna of Prince Frederick, and Danielle Scanlon and her fiancée Michael Naples of Huntingtown. He is also survived by his parents Thomas and Joan Scanlon of Huntingtown, grandson James Daniel Scanlon, brother Thomas J. Scanlon III of Annapolis and sister Maria Suthard of Huntingtown. Arrangements by Rausch Funeral Home.