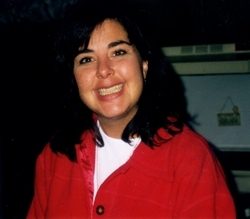 Jennifer Rebecca "Jenny" Randles, 50, of California, MD died March 27, 2016 at her residence. Born December 5, 1966 in Philadelphia, PA she was the daughter of Joan (Ravicini) Randles and William J. Randles. Jenny graduated from Calvert High School in 1985 and from Frostburg State College in 1989. She was a registered nurse.

Jenny is survived by her children, Natalie J. Thompson and Molly Thompson; her siblings, Joan Randles of Decatur, IL, William Randles of Tustin, CA, Carolyn Oresik of Lusby, MD, Marianne Nolte of Encinitas, CA and Jacqueline Unkle of Lusby, MD. She was preceded in death by her parents.

Family will receive friends on Tuesday, April 4, 2017 from 10:30 a.m. until 12:00 p.m. with a funeral service at 12:00 p.m. at the Rausch Funeral Home, 20 American Lane, Lusby, MD 20657. Interment will follow in Solomons United Methodist Church Cemetery, 14454 Solomons Island Road S, Solomons, MD 20688. Arrangements by Rausch Funeral Home.