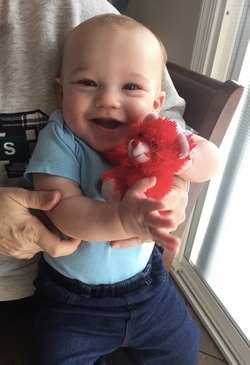 On July 21st, 2016, Doriane Gedridge and Jared Fohs brought a handsome 7 pound baby boy, Jase, into this world. Jase was born at Calvert Memorial Hospital with all his family and friends to celebrate his birth.

He was a spunky and energetic baby that had the biggest smile that could light up the room. Bath time was his favorite thing to do with splashing water and playing with his bubbles. Never could you keep Jase still or even in his clothes. He was a fast mover, and by 8 months he was already trying to run and have two teeth popping out. Jase was the happiest baby you could ask for and never will his light fade. Forever you will be our little sunshine.

Jase is survived by his mother Doriane L. Gedridge of Lusby, father Jared Patrick Fohs and step-mother Stephany Fohs of Pasadena, grandparents Bob and Sherri Gedridge of Lusby and Jon and Jennifer Fohs of Pasadena, great-grandparents Tim and Janet Fohs of Odenton and Deanna Wistling of Seaford, DE, aunt and uncle Caity and Justin Fohs of Pasadena, aunts Lauren Gedridge of Lusby, Alex Gedridge and uncle Stephen Gedridge, both of Kingsland, GA. Arrangements by Rausch Funeral Home.