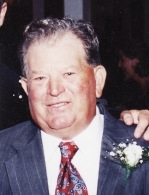 Martin Henry Russell,87, of Ridge, MD passed away on March 20, 2017 in Leonardtown, MD. Born on August 3, 1929 in Chaptico, MD, he was the son of the late Rose Alice Suite Russell, and George Clayton Russell. Martin was the loving husband of Minnie Josephine Courtney Russell, whom he married on August 3, 1952 in Trinity Episcopal Church St. Mary's City, MD

Martin is survived by his son Scott Courtney Russell of Ridge, MD, and 3 grandchildren. Siblings: Cora Viola Norris and Anna Mae Lore. He was preceded in death by his siblings: Johnson William Russell, Joseph Clayton Russell, Guy Arthur Russell, James Bernard Russell, George Edmond Russell, Frank Lewis Russell, Theodore Marshall Russell, Albert Grover Russell, Joseph "Joe" Leonard Russell, Mary Elizabeth Quade, Alice Louise Childress, and Martha Marie "Mickie" Norris.

He was a lifelong resident of St. Mary's County, MD. Martin served in the United States Marines from August 28, 1951 to August 28, 1959 while serving in the Korean War. He lived by the "Golden Rule" and the world was his friend. His pride and joy were his son, Scott and his 3 grandchildren: Carter, Alison and Kayla. He was the 9th. of 15 children. Born in Chaptico, MD and moved to a farm in Great Mills, MD when he was 7 years old and attended Little Flower School. Martin worked at Corinthian Yacht Club in Ridge, MD for over 50 years, until his health forced him to stay at home. He was married for 64 years to the love of his life and lived the entire time in Ridge, MD. He will be greatly missed by all who knew him.

The family will receive friends on Friday, March 24, 2017 from 10:00am-11:00am in St. Mary's Chapel Ridge, MD. A Funeral Service will follow at 11:00am with Father John Ball officiating. Interment will follow in Trinity Episcopal Cemetery, St. Mary's City, MD. Pallbearers will be: Paul Altman, Greg Edwards, Jim Estep, Marvin Story, Jim Test, and Brian Winsor and Darrell Derrington. Contributions may be made to the Ridge Vol. Rescue Squad, P.O. Box 456, Ridge, MD 20680. Arrangements by Mattingley-Gardiner Funeral Home.