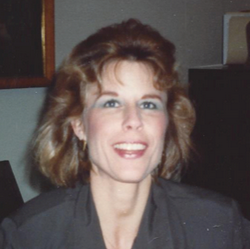 Christine "Tina" Newgent , 67, of Broomes Island, Md passed away March 15, 2017 at the Burnett Calvert Hospice House. Christine was born March 10, 1950 in Washington, DC. She was raised in Landover Hills, Md and graduated from Elizabeth Seton High School in 1968. Christine is survived by her mother Ann; her husband Andrew; her son Mark and his wife Krista of Ellicott City Md; and three grandchildren: Mattie, Jonah and Evelyn.

Known for her love of entertaining and making everyone feel welcome and wanted. Tina's smile lit up the room. God has called her home to bring that smile to heaven. Christine Married Andrew C. Newgent in 1972 and they made their home in Hyattsville, MD where Christine was active in St. Jerome's Parrish and the DeMatha High School Mother's Club. After she retired from the Eastern Conference of Teamsters and Andrew from the Prince George's County, Md Fire Dept. they moved to Broomes Island where she became active in St. John Vianney Catholic Church, and organized progressive dinners with neighbors on Riverview Rd.

Memorial Visitation will be held Monday, March 20, 2017 at St. John Vianney Catholic Church from 5-8 P.M., and a funeral mass on Tuesday, March 21, 2017 at St. John Vianney Catholic Church at 11 A.M. Memorial contributions may be made to Calvert Hospice. Arrangements by Rausch Funeral Home.