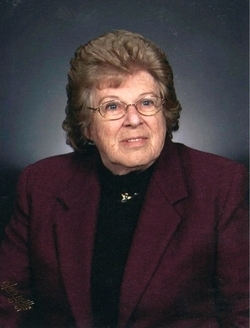 Mary "Anne" Woodburn, 84, of St. Inigoes, MD passed away March 10, 2017 at St. Mary's Nursing Center in Leonardtown, MD surrounded by her loving family. She was born June 10, 1932 in Pearson, MD to the late William Mace Birch and Ida Ruth Abell Birch.

Anne was a graduate of St. Michael's High School. In August 1951, she married her beloved husband, Joseph Creighton Woodburn at St. Michael's Catholic Church. Together they celebrated over 45 wonderful years of marriage before his death in November 1996. She worked at Dameron Daycare for over ten years loving and caring for many children. In addition to her parents and husband, she is also preceded in death by her infant son, her brothers, Bill Birch and Ray Birch, and her granddaughter, Amanda "Mandy" Gerek.

She enjoyed cooking for large family gatherings, especially Easter, Thanksgiving and Christmas, and always had a cake or pie to serve guests. Her hobbies included research in family history, gardening, tending to her many flowers and reading Maryland history. Her greatest pleasure was when her grandchildren and great grandchildren came to visit. Together they enjoyed playing board games, cards, and reading.

Anne is survived by her children: Angela Peacock (Leo) of Dameron, MD, Renee Gerek (Rick) of St. Mary's City, MD, J. Creighton Woodburn, Jr. (Leisa) of St. Inigoes, MD, Bonita "Bonnie" Ridgell (Tim) of St. Inigoes, MD, Daniel "Danny" Woodburn (Brenda) of Mechanicsville, MD; her siblings, Donald Birch of St. Mary's City, MD and Sara Schwolgin of Georgia; her grandchildren: Lisa Burris, Jason Peacock, Russell Gerek, Ross Peacock, Ashleigh Andrews, John Ridgell, and Leah Woodburn; her great grandchildren: Clay Burris, Mia Peacock, Colby Burris, Riley Peacock, Wyatt Andrews, Colton Andrews, and Heidi Ridgell, and Hazel Ridgell; and many extended family and friends.

Family will receive friends on Thursday, March 16, 2017 from 11:00 a.m. - 12:00 p.m., at St. Michael's Catholic Church, 16566 Three Notch Road, Ridge, MD 20680. A Mass of Christian Burial will be celebrated by Reverend Peter Giovanoni at 12:00 p.m. Interment will be follow in the church cemetery. Serving as pallbearers will be Jordan Andrews, Russell Gerek, Jason Peacock, Ross Peacock, Clay Burris, John Ridgell, and Billy Bodnar.

Honorary pallbearers will be her grandchildren: Leah Woodburn and the late Mandy Gerek, and the great grandchildren. Memorial contributions may be made to Ridge Volunteer Rescue Squad, P.O. Box 456, Ridge, MD 20680; Ridge Volunteer Fire Department, P.O. Box 520, Ridge, MD 20680; and St. Michael's Catholic Church, P.O. Box 429, Ridge, MD 20680. Arrangements by the Brinsfield Funeral Home, P.A.