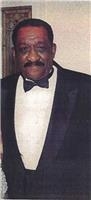 John Ernest Berry, 89 of Mechanicsville, MD affectionately known as "Snack", was called Home by the heavenly angels peacefully on the morning of March 10, 2017. Snack was born on April 6, 1927 to the late Lena Somerville Mason-Berry and John Walker Berry.

On September 25, 1944, Snack enlisted in the United States Navy. He sacrificed and served his country with dignity, dedication, distinction and honor so that we could have our freedoms. After his tour, he was 'HONORABLY DISCHARGED"". God bless Snack and God bless all of our veterans. Later, he was employed for several years by Jackie Mattingly Company.

Snack loved to set back and talk about old times; telling stories with his late friend, Palmer King. He was truly a special person, always smiling and would help anyone. He was a beautiful person inside and outside.

He loved and enjoyed being around his family and friends. Snack was never in need of home cooked meals. You can believe that Mrs. Anna King, Margaret Holt, and his niece, Agnes Mason (Sugar Pig) were always on time with his delicious meals. He would always joke about Sugar Pig bringing his food over so he could get fat. In addition, his special friends and nephews, Michael King, Calvin King, David Butler and Ralph Helmsley would always stop by to see if he needed anything, were always there visiting him in the hospital or just to visit to keep him company.

Snack was preceded in death by his parents, his beautiful daughter, Millicent Berry Thurmon; sisters, Helen Fenwick, Agnes Hazel, Sarah Butler, Mildred Duke, Dorsey Helmsley and Josephine Handy; brothers, Leonard Mason, Joseph Edward (Dick), Joseph Walker (Bush), James Henry (Luke) and Paul Vincent (Punk) Berry and a close friend, Florence Asnette Chase.

He leaves to cherish his memories his granddaughters, Kimberly Ali (Jameel Ali, Sr.) and Cynthia Thurmon; two great-grandchildren, Jameel Ali, Jr. and Amirah Ali; son-in-law, Steven Thurmon; Chase children, DoeDoe, Tiddy, Leroy, Boogie, Gladys, Cisco, Brenda and Jeffery Chase. Close to his heart was Johnathan (Cisco) Brooks, a very special, dedicated, caring person in his life, and Boogie Chase, who he raised as grandson and son. Snack also leaves to cherish his memories his ex-wife, Elizabeth Harris and mother of his daughter, Millicent; sister-in-law, Mrs. Dorothy Berry; niece, Joyce Curtis and a host of other relatives and friends.

God bless you ""Snack"" and He shall keep you in his care until we meet again.

Family and friends will unite on Monday, March 20, 2017 for visitation at 9 am until Mass of Christian Burial at 10 am at St. Joseph's Catholic Church, 29119 Point Lookout Rd, Morganza, MD 20660. Interment to follow at Charles Memorial Gardens, Leonardtown, MD. Arrangements by Briscoe-Tonic Funeral Home.