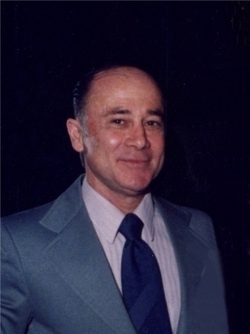 Aaron McKinley "Tex" Madewell, 85, of Leonardtown, MD (formerly of Fort Worth, TX) passed away March 9, 2017 at his home surrounded by his loving family. He was born November 24, 1931 in Paoli, OK to the late Delbert and Winnie Combs Madewell.

Aaron moved to Fort Worth, TX when he was four years old. He graduated from Trimble Technical School and immediately began working for Forth Worth Rubber Stamp Company in the production of rubber stamps, seals and dies. On January 1951, he enlisted in the United States Navy and served about the USS Lake Champlain as a Gunner in the Korean War until his Honorable Discharge in November 1954. During his service he earned the National Defense Service Medal; Navy Occupation Service Medal, Korean Service Medal, and the United Nations Service Medal.

On August 25, 1952, he married his beloved wife, Virginia Lee "Ginny" Madewell at Calvary United Methodist Church. Together they celebrated over 63 wonderful years of marriage until her death in April 2016. He returned to his job at Fort Worth Rubber Stamp Company for 41 years of dedicated service. He then worked for over 20 more years at Mulholland Rubber Stamp Company until his retirement in 2015. After retiring, he and his wife moved to Leonardtown, MD to be with his son and their family. His wife was a native of St. Mary's County, so he often vacationed visiting her family. They especially loved going to Solomons Island. He also enjoyed golfing, playing cards and watching sports. He especially loved cheering on the Dallas Cowboys.

Aaron is survived by his sons, Rodney Madewell (Cyndi) of Leonardtown, MD and Lance Madewell of Fort Worth, TX; his brother, J.D. Madewell (Virginia Lee) of Fort Worth, TX; 6 grandchildren: Jessica Madewell, Alyssa Madewell, Kayla Madewell, Corey Madewell, Kristun "Sean" Madewell, and Terrence Vaughn; nine great grandchildren and many extended family. In addition to his parents and wife, he is also preceded in death by his daughter, Sharon Madewell Vaughn and siblings, Florene Williams, Ruth Ratliff, Evelyn Peppers, Lovella Stacy and Diana McFadden.

Family will receive friends on Thursday, March 16, 2017 from 1:30-3 p.m., with a Funeral Service celebrated by Bishop Spence at 3:00 p.m., at Brinsfield Funeral Home, P.A., 22955 Hollywood Road, Leonardtown, MD 20650. A Graveside Service will be celebrated on Friday, March 17, 2017 at 11:00 a.m. St. Michael's Catholic Church, 16566 Three Notch Road, Ridge, MD 20680. Memorial contributions may be made to Hospice of St. Mary's, P.O. Box 625, Leonardtown, MD 20650 and the American Diabetes Association, 2002 Clipper Road, Suite 110, Baltimore, Maryland 21211. Arrangements by the Brinsfield Funeral Home, P.A.