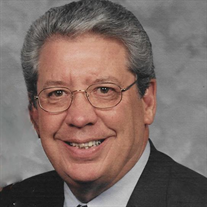 Jack Warren Winters, 70, of Prince Frederick, MD formerly of Bel Air, MD passed away on Wednesday, March 8, 2017, at Charlotte Hall Veterans Home surrounded by his loving family. He was born on September 1, 1946 in Galion, OH to Ethel (Jakab) and Ray Lawrence Winters. Jack was a veteran having served his country in the U. S. Navy during Vietnam.

He worked in the photography industry for 27 years as a Divisional Sales Manager for United Church Directories and his own company, Photographic Images. He enjoyed playing golf, traveling and spending time with his family.

Jack is survived by his beloved wife of 44 years, Judy (Haugh) Winters, and his daughters Jennifer Davidson and Julie Smith, and his son-in-law Matthew Davidson. He was the devoted grandfather of Brian, Jack and Megan Davidson and Ross Smith. He is also survived by his twin brother, Jerry Winters and his wife Patricia of Galion, OH and his loving sister, Linda Bellew of Clearwater, FL. Jack with always be remembered as a loving and devoted family man.

Interment will be at Arlington National Cemetery at a later date. Memorial Contributions may be made in his memory to the Alzheimer's Association, National Capital Area Chapter, 3701 Pender Drive, Suite 400, Fairfax, VA 22030. Arrangements by Lee Funeral Home.