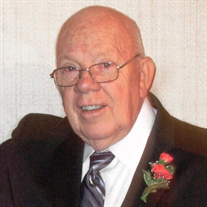 Clyde Cayce Forsee, 79, of Bel Alton, MD passed away on March 6, 2017. Mr. Forsee was born on November 16, 1937 in McEwen, TN to the late James and Rosetta Forsee. He grew up on the family farm with his 8 siblings where he learned a strong, disciplined work ethic. In 1956, Mr. Forsee moved to Maryland and began working at the Department of Agriculture. This is where he met his wife, Gloria. They were married on November 4, 1961. Mr. Forsee was a huge Washington Capitals fan. He also enjoyed fishing, working in his garden, playing Rook with his siblings, searching for "treasures" with his metal detector and especially spending time with his six grandchildren.

Mr. Forsee served in the United States Army and was stationed at the Pentagon from 1960-1965. After his discharge he and his wife moved to Bel Alton, MD and started their family. In 1966 Mr. Forsee began working at his in law's restaurant, Twin Kiss Drive In. In 1971 he became the sole owner of the business. Although running the restaurant took many hours, Mr. Forsee enjoyed his place in the community and spending time with the teenagers who worked for him. Mr. Forsee and Twin Kiss Drive In became a staple in the community until his retirement in 2001. Mr. Forsee was a member of the Bel Alton Volunteer Fire Department for over 20 years, serving in many capacities, as well as a member of the Charles County Volunteer Firemen's Association.

He is survived by his wife of 55 years, Gloria and his children, Linda Homan (Robert) of Bel Alton, MD and Andrew Forsee (Renee) of Waldorf, MD and his grandchildren, Alison Homan, Grant Homan, Brooke Homan, Jordan Homan, Paige Forsee and Casey Forsee. He is also survived by his sister, Bertha Hooper (Sam) of Bon Aqua, TN and his brother, Howard Forsee (Joyce) of Dickson, TN. Mr. Forsee was preceded in death by his parents, James and Rosetta Forsee; brothers, Hoover Forsee, James Forsee, Lonzo Forsee; sisters, Marie Woolverton, Edna Mae Ross and Vivian Harvey; in laws, Joseph and Alma Worthington.

Friends received on Thursday, March 9, 2017 from 2-4PM and 6-8PM with Fireman's Prayers at 7PM at Raymond Funeral Chapel, 5635 Washington Avenue, La Plata, Maryland 20646 and where Funeral Services will be held on Friday, March 10, 2017 at 11AM with Pastor Glenn Forsee officiating. A private burial will take place at a later date at Maryland Veteran's Cemetery in Cheltenham, Maryland with United States Army Honors. Memorial contributions in Clyde's name can be made to St. Jude Children's Research Hospital in Memphis Tennessee. Arrangements by Raymond Funeral Service.