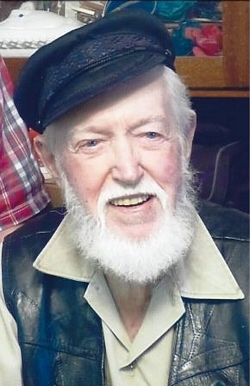 Ralph Zeller Miller Jr., 91, of Lusby, MD passed away on March 4, 2017 at Charlotte Hall Veterans Home. He was born on March 20, 1925 in Washington, DC to Ralph Z. Miller and Nellie Parrott Miller. Ralph was raised in Washington, DC and joined the Marine Corps in 1942 serving in the South Pacific. He saw action on Bougainville, British Solomon Island, and at Iwo Jima and was honorably discharged in 1945.

Ralph moved to Calvert County in 1965 where he was a Lifelong Member of the Chesapeake Ranch Estates. He was a Bricklayer and Carpenter and worked on many houses in Calvert Co. He was a devoted member of the American Legion Post 274 and the Bricklayer and Allied Craftworkers Union.

Ralph was preceded in death by a son, Ralph Z. Miller, III, and a daughter, Martha Brodsky. He is survived by a son, Raymond Miller; son in-law, Sonny Brodsky; 5 Grandchildren; 5 Great Grandchildren; 1 Great-Great Grandson; and dear friend, Carolyn Rebak.

The family will receive friends on Thursday, March 9, 2017 from 2-6 PM in the Rausch Funeral Home, 20 American Lane, Lusby, MD 20657. Interment will be private. Arrangements by Rausch Funeral Home.