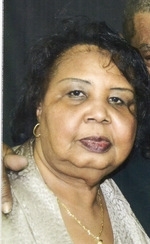 Mary Patricia "Fenwick" Miles, 69, of Lexington Park, MD departed this earthly life on February 27, 2017 at her home. "Patsy" or "Pat" as she was affectionately known as was born February 2, 1948 to the late George Henry and Margaret Madeline Fenwick. She was the fourth of 14 siblings. She attended St. Peter's Claver Elementary School and Cardinal Gibbons High School. She was preceded in death by her parents and 2 sisters, Margaret L. Carroll and Mildred R. Fenwick.

On October 25, 1986 Patsy was united in holy matrimony to James Melton Miles. She was blessed with five children. A woman of faith and a heart of gold, Patsy live life to the fullest. She loved cooking for family and hosting holiday gatherings, loved traveling and spending time with family and friends. Because of her kindhearted spirit, good cooking and her outspoken nature she won the love and respect of many. After raising her children, she entered the workforce in 1982 as one of the first workers at the Amber House (Bayside Nursing Center now known as Chesapeake Shores) and later moved on to the Seafarers Harry Lundberg School of Seamanship where she retired.

She leaves behind to cherish her memory her husband James of 30 years and 3 children, Terry Francis Clinton of Lexington Park, MD Debbie Ann Short (George) of Oxon Hill, MD and Carolyn Jackson (Joseph Lee) of California, MD; 2 sons preceded her in death, Wayne Anthony Clinton, Sr. and Joseph Marvin Clinton; 7 grandchildren, Wayne, Jr., Jermaine Alexander, Crystal, Jermaine Joseph, Dewitt, Darrell and Shantese and 7 great-grandchildren; 11 siblings, George E. Fenwick (Queenie deceased), Agnes C. Fenwick, Arlene M. Carter (Robert) and Catherine D. Bush (Thomas) of Lexington Park, MD, Brenda F. Butler (Darnell), Philip L. Fenwick (Allison) and Phyllis M. Stevens (William deceased) of Great Mills, MD, Alma E. Somerville (Pernell) of Hollywood, MD, Joseph N. Fenwick (Jackie) of Long Island, NY, Robert I. Fenwick, Sr. (Dorothy) and Charles R. Fenwick (Glenda) of Memphis, TN; 1 Aunt, Annie C. Carroll of Lexington Park, MD; 2 god children and 2 devoted friends, Francis X. Dyson and Ruby Saxon and a host of nieces, nephews, cousins, and other relatives and friends.

Family will receive friends on Wednesday, March 8, 2017 from 5:00PM to 8:00PM with prayers recited at 7:00PM in the Mattingley-Gardiner Funeral Home, Leonardtown, MD. A Mass of Christian Burial will be celebrated on Thursday, March 9, 2017 at 10:00AM in St. Cecilia's Catholic Church with Father Scott Woods officiating. Interment will follow in St. James Catholic Cemetery, Lexington Park. Arrangements by Mattingley-Gardiner Funeral Home.