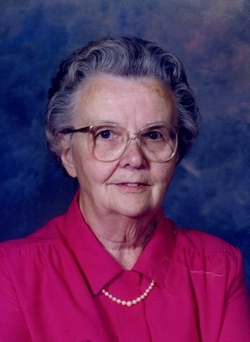 Anne I. Gleason, of Lusby, MD passed away peacefully Friday, March 3, 2017 at the age of 94. Anne was born October 3, 1922 to the late George and Rosa Vander Heyden of Faribault, MN. A graduate of Northfield High School she is preceded in death by her first husband Clyde Mitchell (1955), and her second husband Everett Gleason (1982). She is also preceded in death by 3 brothers and 5 sisters.

Anne enjoyed her Thursday luncheons with friends from Lusby and Our Lady Star of the Sea Catholic Church. A devout Catholic, she was active in church activities where she chaired the annual church bazaar, taught CCD, sewed, cleaned, and ironed linens for the church altar and robes for the altar servers. In addition she was a Eucharistic Minister and Lector at church and performed volunteer work in the church office. For many years she spent her Wednesdays in a bible study group.

She enjoyed sewing clothes which she would proudly wear, and making dolls and quilts for her grandchildren and other relatives. When spring time came she looked forward to spending time in her vegetable garden growing food for the table. Anne always kept her bird feeder full so she could enjoy watching them.

She is survived by 5 sons; Charles M Mitchell (Elizabeth) of Sterling, VA, Robert P Mitchell (Catherine) of Heathsville, VA, John T Mitchell (Carolyn) of White Plains, MD, James M Mitchell of Huntington Beach, CA, William T Mitchell (Nancy) of Manassas, VA, and 1 stepdaughter, Nancy Dwyer (Lynn) of Norman, OK. Known as Grandma-Great she leaves behind 22 grandchildren, and 18 great grandchildren. She was also known as Grandma Anne to the neighborhood children.

The family will receive friends on Thursday morning, March 9, 2017 at Our Lady Star of the Sea Catholic Church, 225 Alexander St., Solomons, MD 20688, from 11:00 AM to 11:45 AM followed by a Mass of Christian burial at 12:00 Noon. Interment will take place at Gate of Heaven Cemetery at a later date. In lieu of flowers, contributions can be made to Our Lady Star of the Sea School, or to Calvert Hospice. Arrangements by Rausch Funeral Home.