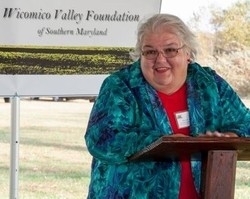 Nancy Diane Wolfe, 65, of Chaptico, MD died on February 26, 2017 at Genesis Rehab Center in Waldorf, MD. Born on May 4, 1951 in Washington, DC she was the daughter of the late Cora Lorena Ward Wolfe and the late Harold William Wolfe. She was the sister of the late Lawrence "Larry" Theodore Wolfe.

Nancy graduated from LaReine High School in Suitland, Maryland, in 1969, and the College of Human Ecology at University of Maryland in College Park, Maryland with a degree in Family and Community Development in 1973. Her career started as the first Director of the Title III Program in Charles County Aging Services Office. She was responsible for establishing satellite meal sites throughout the county for all people over 55. Later, she took a position with the State Department of Child Services in St. Mary's County, serving as a caseworker until she retired in 1995. She was a member of Christ Church in Chaptico, MD serving on the altar society and singing in the choir. She was a member of Christ Episcopal Church Chaptico MD were she once served on the Altar Guild, was a member of the Parish Aid, choir and chairperson for the crafts of the church's Fall Bazaar.

Nancy believed strongly in preserving agricultural farmland and working with the community to host numerous events to support local charitable organizations. She was a life-long member of River View Grange, holding many offices with the Maryland State Grange and the National Grange. She worked hard to promote membership and support their many activities. In addition, Nancy enjoyed being a judge at numerous county fairs, including Anne Arundel, Charles, and St. Mary's counties; as well as organizing the annual baby show at the St. Mary's County Fair for many years. She enjoyed crafting, sewing, quilting, baking, canning and genealogical research.

Friends of Nancy Wolfe will gather to celebrate her life on Friday, March 3, 2017 from 5:00-8:00 p.m. at the Brinsfield Funeral Home, 22955 Hollywood Road, Leonardtown, MD 20650. Prayer service will be held at 7:00 p.m. A funeral service will be held on Saturday, March 4, 2017 at 2:00 p.m. at Brinsfield Funeral Home. Interment will follow at Christ Episcopal Church Cemetery, 37947 Zack Fowler Road, Chaptico, MD 20621.

In lieu of flowers, donations can be made to the Wicomico Valley Foundation, which Nancy created in 2013 to preserve and protect farmland for agricultural purposes, outdoor recreation, education; and community service activities in partnership with other charitable organizations in Charles and St. Mary's Counties. Checks can be mailed to the Wicomico Valley Foundation, 23421 Lower Brambly Lane, Chaptico, MD 20621. www.wicomicovalley.org. Arrangements by Brinsfield Funeral Home.



Honorary Pallbearers will be Luther Wolfe, Jack Short, Malcom Goode and Mike Sirk.



Condolences to the family may be made at www.brinsfieldfuneral.com.



Arrangements by the Brinsfield Funeral Home, P.A., Leonardtown, MD.