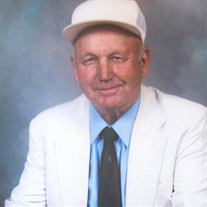 Frederick "Fred" George Zehner, 86, of Huntingtown, MD passed away on Thursday, February 24, 2017 at his residence surrounded by his loving family and friends. He was born on March 2, 1930 in Mitchellville, MD to Maria (Frederick) and Martin Zehner. In 1948, he graduated from Annapolis High School. He served in the US Army and was honorably discharged.

Fred was a very ambitious successful self-made farmer and businessman. His determination and loyalty was evident in all of his endeavors and well known to those who knew him. He built and created lakes, farms and friendships that will remain forever. He loved family and friends and God's nature, be it in the forest or the field or the wild turkeys he loved to raise. He was a "jack-of-all trades" and master of most.

Fred was the beloved husband of the late Vivian Shirley (Robinson) Zehner and the loving father of Elaine Fleshman. He had one granddaughter, Lisa AnnMarie Fleshman. He was the brother of Martin A. Zehner, Jr. and Eugene M. Zehner. He is also survived by several nephews and numerous other family members. Arrangements by Lee Funeral Home.