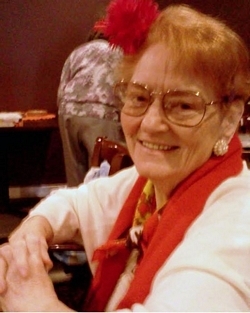 Mildred (Mickey) Ruth Kirby was called home by with our Lord on Monday February 20, 2017 at MedStar St. Mary's Hospital in Leonardtown, MD. She is predeceased by parents Theodore Fillmore Garner and Esther Cora Haislup; brothers Theodore Robert Garner and Allen Thomas Garner; daughter Linda Joann Ramirez-Hoskins; son Joseph Benton Kirby, 3rd.

She is survived by her (Ex) husband Joseph Benton Kirby, Jr, daughters Mildred Ruth Turner (Rich), Judy Dianne Latham (Gary), Patrick Allyn Kirby (Sandy); sister Barbara Ann Hazelrig-Mirsky; grandchildren Jonathan Kirby (Dana), Keith Polly (Tonya), Joseph Kirby, IV, (Jillian), Beth Ogne (Pastor Chris), Daniel Kirby, Kisa Adams (Jeremy), Adam Kirby; great-grandchildren Morgan Lawson, Conner Kirby, Kaitlynn Polly, Thomas Kirby, Olivia Ogne, Hope Ogne, Faith Ogne, Joy Ogne, Emma Joy Adams, daughter-in-law Buffy Kirby, and many nieces, nephews, and the Latham boys Greg, Brian, Tony and Chris.

Mickey was the daughter of Theodore Fillmore Garner and Esther Cora Haislup. She was raised with her siblings Ted, Barbara, and Allen at 640 E Street SE, Washington, D.C. Mickey was a fiery redhead. She attended Chamberlain High and studied Cosmetology. She met and then married Joseph B. Kirby, Jr. They raised 5 children Linda, Ruth, Joe, Judy, and Patrick.

She was known for her great story telling, great personality and sense of humor. Later in life she took on black and white photography which she enjoyed immensely. After 25 years at Giant Food as a cashier and then a bakery clerk she retired. She had the lovely gift of gab, she never met a stranger. She will be missed by the those whose lives were touched by her.

Services to be held at The Lutheran Church of Our Savior, 7365 Indian Head Highway, Bryans Road, MD 20616, on Friday, February 24, 2017 from 9 AM until time of service at 11 AM. Interment Cedar Hill Cemetery in Suitland, MD. Arrangements by Williams Funeral Home.