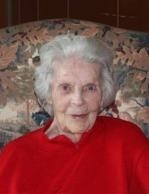 Mary Alice Sanner Drury of Ridge, MD passed away in her home on February 23, 2017 at the age of 98. She is survived by her son John Drury (Maggie) of Chester, VA and Daughter Joan Welch (Ron) of St. Inigoes, MD. She has 5 grandchildren James Welch, Eric Welch (Kimberly), Megan Drury, Stephanie Welch, and Raub Drury (Christina). There are 4 great great-grandchildren, Ashley Welch, Zachary Cannavino, Savanna Cannavino and Dilan Welch. She was preceded in death by husband, James R. Drury Jr., her parents, Irving and Daisy Hammett Sanner, her brothers Lloyd Sanner, Richard Sanner, John Sanner, Michael Sanner, James F Sanner and her two sisters Eleanor McInarnay and Evelyn Sanner.

Her wonderful caregivers that she cherished: Jean Harmon, Kelisa Marsh, Salinda Carroll, Michelle Lepert, Denise Keokuck and Francine Smallwood. Alice was the oldest of 11 children and has 3 surviving brothers, Bernard (Joan) Sanner of Reisterstown, MD, Carl (Barbara) Sanner of Westminster, MD, and Donald Sanner of Miami, Florida. She has many nieces and nephews who loved to visit her southern Maryland home, to relax, play in the water, catch crabs and watch the gorgeous sunsets.

She graduated from St. Michael's High School in 1937. She relocated to Washington, D.C., married James Raub Drury Jr. in 1940 at St. Michael's Church. She worked at the Census Bureau in Suitland, MD until her retirement in 1973. Alice was a member of many community and reginal organizations to keep her busy and active in the community. These included: the Major William Thomas Chapter, National Society Daughters of the American Revolution. She held the office of Regent from 1979 to 1982, and Treasurer in 1985 and 1986. She was also a member of the St Mary's County Antique Arts Association, Mistress Brent Garden Club and Historian, Friends of Historic St. Mary's City, St. Mary's County Genealogical Society, St. Michael's Ladies of Charity, St. Mary's County Public Library Planning Committee, St. Mary's County Women's Club in which she held the title of President from 1992 thru 1994.

Alice became a world traveler after retirement. She had visited most of the United States before retirement, so she started new adventures oversees. She saw Japan, Australia, India, Africa, Italy, China, Russia, France, and Brazil to name a few. She loved to spend winters in Spain to get away from the cold winters of home. A favorite pastime was entertaining family and friends at her home in Ridge on the Potomac River. Many high school and family reunions were enjoyed by all, as well as numerous club luncheons, and meetings.

In Lieu of flowers, the family would like to request you donate to one of the following: St. Michael's School, 16560 Three Notch Rd. Ridge, MD 20680, St Michael's Ladies of Charity, P.O Box 429, Ridge, MD 20680, or the Ridge Volunteer Rescue Squad, 16515 Three Notch Rd., P.O. Box 456, Ridge, MD. The family will receive friends on Saturday, March 4, 2017 from 10:00 AM-11:00 AM in St. Michael's Catholic Church, Ridge, MD. A Mass of Christian Burial will be celebrated follow at 11:00 AM. Interment will be private. Arrangements provided by the Mattingley-Gardiner Funeral Home, P.A. Leonardtown, MD.