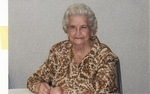 Donnie Marie Knott, 99, of Valley Lee, MD passed away peacefully surrounded by her loving family on February 23, 2017 in Leonardtown, MD. Born on May 19, 1917 in Hortonsville, NC she was the daughter of the late John Frank and Isabelle Maude Slade. Donnie was the loving wife of the late James Harvey Knott Sr. whom she married on March 22, 1941 and whom preceded her in death on December 13, 1995.

Donnie is survived by her children Charles Irving Knott of Valley Lee, MD, Mary Lucille Ulry (Ned), of Westerville, Ohio, Joseph Earl "Fuzzy" Knott (Pat), of Valley Lee, MD, and Thomas Frederick "Freddie" Knott (Nancy), of Valley Lee, MD, 13 grandchildren, 35 great grandchildren. As well as her sister Ivybell McCann of Delaware and many nieces and nephews. She was preceded in death by her sons James Harvey Knott Jr, John Gonzie Knott, by her daughters Arthy Guetter, Lucy Perkins, and her siblings Carl, Bonnie, Selma, John Frank, and Susan.

For many years she was side by side with Harvey on the water crabbing and oystering, picking many pounds of crab meat and shucking oysters. She was a member of St. George Episcopal Church where she enjoyed spending time in the kitchen with the ladies preparing crab cakes for their annual church dinner.

Affectionately known as "Nanny", she was a full time homemaker who enjoyed spending time laughing with her family but most of all preparing endless home cooked meals for all who would gather at her table. She loved to share her fascinating life stories as no one was a stranger to her. She was adored by all who knew her and left a lasting impact on many lives.

The family will receive friends on Monday, February 27, 2017 from 5-8pm with prayers recited at 7pm. A mass of Christian burial will be held on Tuesday, February 28, 2017 at 10am at St. George Episcopal Church, Valley Lee, MD. Serving as Pallbearers: Brian Knott, Troy Knott, Tom Ulry, Matt Bowes Sr., Kelvin Neely, and Matt Bowes Jr. Contributions may be made to St. George's Episcopal Church Cemetery Fund, Second Dist. Vol Fire Dept. and Rescue Squad Valley Lee, MD. Arrangements by Mattingley-Gardiner Funeral Home.