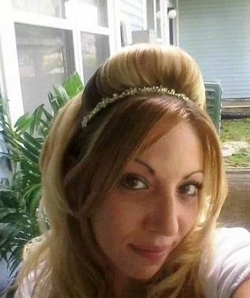 Holly Ruth Brown, known as "Sweet Pea" to her mom and "Baby Girl" to her friends, 32, of Leonardtown, MD formerly of Lusby and Waldorf, passed away on February 21, 2017 in Waldorf, MD. Born September 26, 1984 in Takoma Park, MD she was the daughter of Sheri and Jim Brown of Leonardtown, MD. Holly graduated from Patuxent High School in 2002. She loved butterflies.

Holly is survived by her parents, Sheri and Jim Brown of Leonardtown, MD; her children, JJ, age 12, of South Carolina and Lilly, age 2, of Leonardtown, MD and her brother Christopher Wall and his wife Hope, of Frederick, MD.

Family will receive friends on Thursday, March 2, 2017 from 10:30 a.m. until 12:00 p.m. with a Funeral Service to follow at 12:00 p.m. at Rausch Funeral Home, P.A., 20 American Lane, Lusby, MD 20657. Interment will follow in Charles Memorial Gardens, Leonardtown, MD. In lieu of flowers, contributions may be made to Go Fund Me Sheri Brown at Linda's Café. The money will go to her children. Arrangements by Rausch Funeral Home.