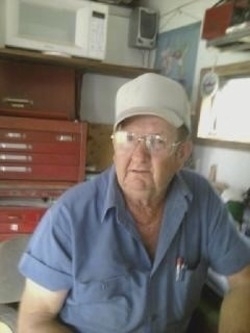 John "Buddy" Huriah Ridgell, 73, of Scotland, MD died February 19, 2017 at his residence. He was born June 22, 1943 in Leonardtown, MD to the late D. Theodore Sr. and Alice Lilburn Wheatley Ridgell. In addition to his parents, he is preceded in death by his wife, Annette (Ann) Ward Ridgell, his brothers Carl Ridgell and Dominic (Junior) Ridgell and a granddog Scruffy Dunbar.

Buddy is survived by his children, Robin Earnshaw of Ridge, MD; Barbara Dunbar (William) of Lexington Park, MD, John (BJ) Ridgell, Jr. (Tonya) of Ridge, MD; his grandchildren, Caitlyn Earnshaw Rasel (Brian), Ashlyn Earnshaw, Josephine Earnshaw, Zachary Ridgell and Quinton Ridgell and his sister Selina Unkle and an abundance of nieces and nephews.

Family will receive friends on Friday, February 24, 2017 from 10:00 a.m. till 12:00 p.m., with funeral service at 12:00 p.m., at Brinsfield Funeral Home, P.A., 22955 Hollywood Road, Leonardtown, MD 20650. Interment will follow in St. George's Episcopal Cemetery, 19167 Poplar Lane, Valley Lee, MD. Pallbearers will be Tony Ridgell, Mike Ridgell, Emerick Norris, Ralph Ridgell., David Norris and Roy Norris.

Memorial contributions may be made to: Ridge Volunteer Fire Department, Post Office Box 520, Ridge, MD 20680 or Ridge Volunteer Rescue Squad, Post Office Box 456, Ridge, MD 20680, or St. Mary's County Emergency Friendly Fund, 20937 Black Duck Court, Callaway, MD 20620. Arrangements by the Brinsfield Funeral Home, P.A., Leonardtown, MD.