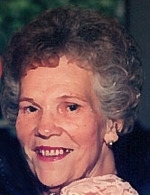 Agnes Gwynette Morgan, 97, of Leonardtown died Feb. 18, 2017 at her residence at Cedar Lane Senior Living Community. Born June 24, 1919 in Clements, she was the daughter of the late William Thomas Jenkins Hayden and Rose Gwynette Hayden. She married Joseph Roger Morgan Sr. on Sept. 7, 1936 at St. Joseph's Church in Morganza. He preceded her in death March 22, 2005.

Mrs. Morgan was a homemaker, the hard-working wife of a farmer and waterman. She loved to play cards (especially pitch) and bingo, but she especially loved to dance. She and her husband spent many a happy Saturday night cutting the rug at dance halls all over St. Mary's.

She is survived by her children, Joan P. Lincoln of Waldorf, James R. Morgan of Loveville (Clara), Peggy English of Oak Harbor, Wash., Jean Morgan of Anaheim, Calif., Sylvia Mullen of Fox Lake, Wis. (Dale), Mary Lou Borge of Philadelphia, Wayne Morgan of Mechanicsville (Cindy) and Donnie Morgan of Hollywood (Annette); 31 grandchildren; 34 great-grandchildren; and eight great-great-grandchildren.

In addition to her husband, she was preceded in death by her son, Joseph Roger "Sonny" Morgan Jr., her daughter, Glenda Ann Morgan; and her siblings, Raymond S. Hayden, Etoyle Tippett, Mabel Graves, Pearl Morgan, Mary Violet "Sally" Graves, Woodley Hayden, William Hayden, Robert "Johnny" Hayden, Margaret Hayden and Mamie Hayden.

Visitation for Mrs. Morgan will be tomorrow, Thursday, Feb. 23, from 5 to 8 p.m. with prayers recited at 7 p.m. at Mattingley-Gardiner Funeral Home in Leonardtown. A Mass of Christian Burial will be celebrated Friday, Feb. 24, at 10 a.m. at Holy Angels Church in Avenue. Interment will follow at Sacred Heart Cemetery in Bushwood. Memorial contributions may be made to Cedar Lane Senior Living Community or A Community That Shares (ACTS) in Bushwood. Arrangements by Mattingley-Gardiner Funeral Home.