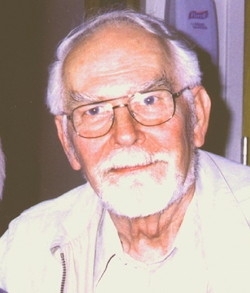 James Marshall Blass died on February 15, 2017 at the age of 83 in Leonardtown, Maryland. He was born on March 5, 1933 in Roseville Township, Macomb County, Michigan of Kenneth Ulric Blass and Marie Friedricka Kleiner Blass. He spent his formative years in Detroit, Michigan and joined the Air Force in 1952. While stationed in Germany, he met his wife of 60 years, Susanne Schultheis (deceased) at Rhein-Main Airbase.

He is survived by his four children, Patricia Holcomb (Teddy), Martin Blass (Cindy), Christine Balderson (Craig) and Stephen Blass (Allison); seven grandchildren, Daniel, Aaron, Matthew, Kenneth, Ethan, Andrea and Hannah; five great-grandchildren, Joshua, Keith, Bennett, Brooks and Beau and two sisters, Katherine McBride of Tennessee and Barbara Wetzel of Boonsboro, Maryland. He was preceded in death by his brother, Kenmar Blass of Baldwin, MI.

He lived in Maryland since 1959 and in St. Mary's County since 1977. After leaving the Air Force, he was hired by the Federal Aviation Agency at Andrews Air Traffic Control Tower where he served until 1978. He was then appointed FAA Air Traffic Representative at Naval Air Station Patuxent River, Maryland. He retired in 1988 after 36 years of service to his country and air traffic control.

His favorite poem line was,"he lived by the side of the road and was a friend to man." Among other joys was his love of writing, including occasional letters to the editor, singing with the Maryland Choral Society and family genealogy. He was a member of the Airways and Air Communications Alumni Assoc., The Maryland Choral Society and Palatines to America. He performed leading singing roles in amateur theater and occasionally had minor solo parts in choral work productions.

Family will receive visitors on Saturday, 18 March 2017 at Brinsfield-Echols Funeral Home, 30195 Three Notch Road, Charlotte Hall, MD from 1:00 p.m. until 4:00 p.m., with a service at 3:00 p.m. In lieu of flowers, memorial contributions may be made to the Mechanicsville Volunteer Rescue Squad, Maryland Choral Society or The Salvation Army. Arrangements by Brinsfield-Echols Funeral Home.