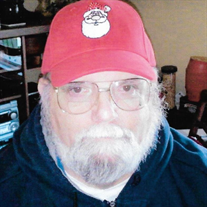 Charles Lamont "Monty" Quinn, 72, of Sunderland, MD passed away peacefully at BridgePoint Hospital National Harbor on February 12, 2017. Born on February 15, 1944 in Richmond, VA, a city that he forever held dear, Charles was the son of the late Charles Edmund Quinn and Margaret Constance Dalton Quinn.

On April 11, 1970, he married his devoted wife Patricia E. (Pilkerton) Quinn. Industrious, hard-working, devoted and caring, he was not shy about speaking his mind if he felt he was being wronged, and was passionate about doing things the right way. Charles enjoyed listening and singing along to old country, bluegrass and gospel music, playing Solitaire, and watching the Washington Redskins. Nothing made him happier than having his grandchildren beside him.

Charles was a veteran, and served his country as a member of the United States Navy. A devoted public servant, Charles was a lifetime member of the Forestville Volunteer Fire Department, and served for eight years on the Calvert County Fire and Rescue Commission. His service as Chairman of the Calvert County Fire and Rescue Commission was recognized by the Calvert County Board of Commissioners. Charles joined C&C Meat Sales, Inc. in 1981 and remained with the company for 31 years as Controller and CFO, until his retirement in 2012.

Charles is survived by his loving and devoted family: wife, Patricia; son, Douglas Quinn; daughters Melinda Quinn and Christine Cheesman (Matthew); by his grandchildren Gavin Cheesman and Margaret Quinn, both of whom he cherished; sisters Linda Quinn Randall (Arthur), Cynthia Quinn, and Vicki Horton, and brother, Paul Quinn (Terri).

Family will receive friends at the Lee Funeral Home Calvert, P.A. on Friday, February 17th from 2 to 4 pm and 6 to 8 pm where a fire department service will be held at 7 pm. A funeral service will be held at the funeral home on Saturday, February 18th at 1 pm. Interment private. Memorial contributions may be made in his name to HEROES, INC., 1200 29th Street, NW, Washington, DC 20007. Arrangements by Lee Funeral Home.