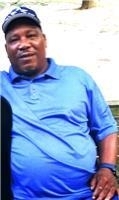 Gerald Anthony Riche, 57, of Hollywood, MD, affectionately known as "Tony" was born May 29th, 1959 to Patricia Taylor and Joseph Barber in Washington, D.C. He was raised by his mother, Patricia Taylor and his stepfather, George Taylor. Tony departed this life on Sunday, February 12th, 2017 at his residence in Hollywood, MD. Tony was a resident of St. Mary's County and received his education through St. Mary's Co. Public School System.

Up to the age of nine, Tony grew up on St. Georges Island where he enjoyed crabbing, fishing, swimming, and listening to music. He loved to go down memory lane with the family sharing stories about the good, the bad and THE UGLY! He also spent a lot of time with his nieces, nephews, his special companion, Michelle Scott and fellowshipping with his friend, Steve Burroughs; talking about GOD and GOD's Holy Word. He was a die-hard Dallas Cowboys Fan, who inspired the families "favorite" team.

Tony leaves memories to cherish with his mother, Patricia and stepfather, George Taylor; father, Joseph Barber (Jo Ann); brother, Clark Riche, Michael Taylor (Antionette), Rodney Taylor and Mark Owens; sisters, Monica Taylor, Towanda Taylor (John) and Marsha Thompson; uncles, Ford Barber, Jr., James Barber and Ralph Barber (Sheilia); a special aunt, Bertina Jackson (Adrian) and aunt, Eleanor Williams and Michelle Scott, his special companion.

He was preceded in death by his brother, Andre Taylor; devoted great grandmother, Eleanor Riche (Charles Riche); his grandmother, Mary Riche; grandfather, Aurthor Riche and aunt, Dorothy Thompson.

Family and friends will unite on Saturday, February 18, 2017 for visitation at 9:00 am until time of service at 10 am at Briscoe-Tonic Funeral Home, 38576 Brett Way, Mechanicsville, MD. Interment to follow at Evergreen Memorial Gardens Cemetery, 22020 Chancellors Run Rd, Great Mills, MD 20634. Arrangements by Briscoe-Tonic Funeral Home.