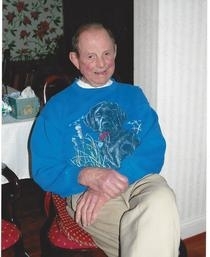 Ervin Emil Brandt, 90, of Dunkirk, MD passed away in Prince Frederick, MD on February 8, 2017. Ervin was born in Avon, SD to the late Angelus and Lydia Hahn Brandt. He served in WWII and had been employed as an electrical engineer with WETA (Washington Educational Television Association), Channel 26. In addition to his service to public television, he enjoyed "tinkering" with and repairing electronics, as well as spending time with his family.

Ervin is survived by his wife of 58 years, Lena; his sons, Timothy Brandt and his wife Annette of Hanover, MD and Thomas Brandt and his wife Eva of Ellicott City, MD; brother, James Brandt and sisters, Leatta, Elsie and Arlene Brandt; grandchildren, Dawn Brandt and her husband, Steve Chicca of Charleston, SC and Justin Brandt and his wife Michelle, also of Charleston, Colleen and Kelly Brandt, of Ellicott City and one great-grandson, Theodore "Theo" Brandt. Ervin was predeceased by his brothers, John, Frederick, Eddie, Arthur and Rudolph and sisters, Louise, Emma and Leona Brandt.

Memorial contributions may be made to Dakota Boys and Girls Ranch, 6301 19th Avenue, N.W., Minot, ND 58703 or online at dakotaranch.org. Arrangements by Raymond Wood Funeral Home.