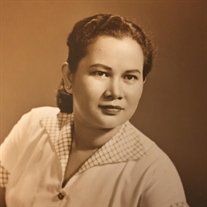 Dr. Lydia Vargas Claridades, Chesapeake Beach, MD formerly of Fishkill, NY passed away peacefully on Tuesday, February 7, 2017 at the age of 92. In her spare time, she enjoyed gardening, cooking, knitting and crocheting. While living in Southern Maryland, she had fun fishing and crabbing. Most of all, she truly loved to be surrounded by family.

Lydia was the beloved wife of Dr. Paul A. Claridades and loving mother of Praxedes Abalos (Ricardo), Michael Claridades, Josephine Rogue (Rod), E. Virginia Claridades (Steven Silverman), Paul Claridades, Jr. (Denise), Bernice Sanford (Matthew), Adriene Bopp (Gary) and the late Theresa Jean. She was the proud grandmother of 15 grandchildren and eight great-grandchildren. She had 9 siblings and is survived by three sisters Pacita Ongtengco(Rafael), Rizalina Santos and Baltasara German.

Lydia was born in the Philippines on November 10, 1924 to Ciriaca (Adriana) and Flaviano Vargas. As a young adult, she survived the Japanese occupation of Manila during WWII, learning to speak Japanese and serving as an interpreter in the Guerilla Resistance, Lost Brigade II, Army Corps, Markings Fil-American (MFA), attaining the rank Master Sergeant, from 1942-1945.

Lydia and Paul married in 1948, starting a family while both attended medical school. She graduated from Manila Central University with a medical degree in 1958. She moved to the United States to join her husband in 1959. She practiced as a General Practitioner in hospitals in various states, working as a surgeon and preferring the emergency room because it was "exciting". She and her husband were often recognized as a team in hospitals where they both worked.

Memorial Contribution may be made to either the American Heart Association or Jesus the Good Shepherd Catholic Church. Arrangements by Lee Funeral Home.