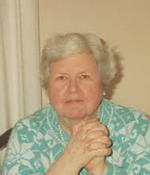 Loretta Marie "Aunt Ree" Combs Rule, 92 of Leonardtown, MD formerly of Silver Spring, MD passed away February 8, 2017 in Hospice House of St. Mary's, Callaway, MD. Born February 27, 1924 in Valley Lee, MD. She was the daughter of the late Margaret Lucille Redman Combs and Franklin Combs, Sr. She was the loving wife of the late Dana Hansford Rule who passed away on September 6, 1982.

"Aunt Ree" is survived by her nieces and nephews, Margaret M. Kesselring, E. Shelby Bokman, Nancy Courage, Michael Combs, John, Combs, and Brenda Guy, Great nieces and nephews, Mark Kesselring, Michael Kesselring, Wanda Florence, Christopher Courage, William Courage, Kelly Courage Clark, Donna Marie Combs, William David Combs, Michael Combs, Cheryl Combs, Janet Combs, Steven Todd Combs, James Combs, David Combs, Joseph Combs, Brian Combs, Vanessa, Jennifer, Richard Combs, Michael Cullison, Christine Cullison and Joseph Cullison.

In addition to her parents and husband, she was preceded in death by her brothers and sisters, W. Clayton Combs, Louis M. Combs, Franklin E. Combs, T. Lester Combs, J. Earl Combs, Joseph F. Combs, John R. Combs, P. Jenifer Combs, Michael H. Combs, Margaret Combs Cullison, Lucy Loretta Combs and Rose Celeste Combs.

"Aunt Ree" graduated from Holy Name Academy in Albany, NY, she worked for Kline's Department Store in sales. She enjoyed cooking, miscellaneous crafts, needle point and cross stitching.

The family will receive friends on Monday, February 13, 2017 from 9:00am TO 10:00am in the Mattingley-Gardiner Funeral Home, Leonardtown, MD. A Mass of Christian burial will be celebrated on Monday, February 13, 2017 at 10:30AM in St. George Catholic Church, Valley Lee with Father John Nguyen officiating. Interment will follow in the church cemetery.

Pallbearers will be: David Combs, Joseph Combs, James Combs, Richard Combs, Brian Combs and Joseph Combs, Jr. In lieu of flowers, memorial contributions may be made to Hospice House of St. Mary's, P.O. Box 625, Leonardtown, MD 20650. Arrangements by Mattingley-Gardiner Funeral Home.