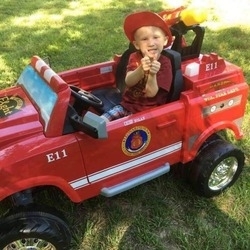 Nolan Ray "Sgt. Rollin Nolan" Scully, 4, of Leonardtown, MD passed away on February 4, 2017 at MedStar Georgetown University Hospital in Washington D.C. in the arms of his loving family and caregivers. He was born on September 7, 2012 in Leonardtown, MD to Jonathan Patrick Scully and Ruth Rebecca Rogers Scully.

From the day Nolan Ray was born, he was such a loving and happy child. He always had an infectious smile on his face no matter the circumstances. He could energize an entire room with his fun-loving spirit! He was wise beyond his years but could also put you in the floor from laughter. Throughout his treatment, Nolan endured many hardships. He never once complained or cried. He trusted his Parents and Team through it all. To him, there was no sadness, he made the best out of every situation. Nolan was just a completely perfect person, with nothing but love in his heart for everyone. Every card he received in the mail, he read and hugged. Every Facebook comment he got, he would say "Aw that's really nice of them Mommy".

Nolan Ray was a fierce Protector, especially to his Mommy. It was no surprise when he became adamant that he wanted nothing more than to be a "Policeman" and he became just that being sworn in for the first time by his "Boss," Mr. Richard Ross, Police Commissioner of Philadelphia, PA. Many nights Nolan would get on his portable radio to talk to his "Boss" about any "action" that occurred that day, or just to sing him his ABC's.

He was in love with Police Motorcycles and Firetrucks! Sgt. Rollin Nolan could spot Police and Fire Vehicles miles away! He would yell "Holy Shit! We got Action!!!" and sure enough, there was an emergency vehicle with lights on! Nolan Ray wanted to be a one of a kind Policeman! He wanted to drive a Police Motorcycle with a side car to carry his "Police Dog" Bruno! He was lucky enough to have an amazing ride-on Firetruck and Police Motorcycle. They were his prized possessions!

In addition to being a die-hard Policeman, he also took great pride in knowing every Dinosaur that ever walked the Earth. He loved to play with his Dinosaurs and he watched the Jurassic World movie every night with popcorn before bed. Throughout his treatment, he continuously watched Jurassic World as if it was the only movie ever created! His favorite Dinosaur was the Ankylosaurus. He was a true boy at heart! He loved anything with wheels! He would astound people by his knowledge of Construction Trucks! His favorite thing was to play in his sandbox with all of his trucks that his Grandmother got him.

Another one of Nolan's many talents was bringing so much happiness and smiles through his singing! He loved to pull out his Paw Patrol Guitar and Microphone and sing his family songs. Nolan was a music lover! His favorite song was "Uptown Funk" by Bruno Mars! He would listen to the song on repeat every day. Sometimes we think it was just to annoy his sister! His next favorite song was Miranda Lambert's "Little Red Wagon"! He watched that YouTube video over and over and then would say that she was "his Nurse Bailey".

Nolan's most favorite thing above anything was his Family. He loved being with his family, even if it was just sitting in the same room. His sister, Leila was his Best Friend and they played every day, even though he would say over and over that he did not like "girl stuff!!!" Slimy Brayden kisses were his favorite! He loved to go outside and play with his Daddy, especially doing yard work! He loved to spread mulch, but it had to be red mulch! Red was his favorite color!! He never missed a chance to snuggle with his Mommy! He laid with Mommy every night and would tell me how much he loved me, which was always "More than all of my Police Cars and Firetrucks in the whole Universe!"

As a family, we are so thankful for the love and care that Nolan received from the Pediatric Oncology Staff at MedStar Georgetown University Hospital. These were Doctors, Nurses, Social Workers, Child Life Specialists/Therapists, Food Service, Housekeeping staff members that became our family and fought so hard next to us throughout his battle.

In addition to his beloved parents, Jonathan and Ruth, Nolan is also survived by his sister, Leila Marie, his brother, Brayden Henry, and his Police Dog, Bruno of Leonardtown, MD; his grandparents: Burress and Diana Rogers of Leonardtown, MD and Kenneth Scully of Leonardtown, MD and his late wife, Joan Scully; his great grandmother, Teresa Lawrence of Abell, MD; his uncles: Ernest Rogers (Jessica) of Hollywood, MD and Chris Scully of Hollywood, MD; his great Aunt, Shirley Spalding of Hollywood, MD; his cousins, Alyssa and Jason Scully; his very close friends, Chris and Amy Smith; and many extended family and friends. He is preceded in death by his grandmother, Joan Scully.

Family will receive friends for Nolan's Life Celebration on Thursday, February 9, 2017 from 4-8 p.m., with prayers at 7:00 p.m. followed by Fireman and Police Prayers, at Hollywood Volunteer Fire Department, 24801 Three Notch Road, Hollywood, MD 20636. For the Visitation Nolan requested that you wear your Nolan Strong shirts or the color red. A Mass of Christian Burial will be celebrated on Friday, February 10, 2017 at 11:00 a.m. by Reverend David Beaubien at St. Aloysius Catholic Church, 22800 Washington Street, Leonardtown, MD 20650. Interment will be private with Family and Close Friends only in attendance.

Serving as pallbearers will be Ernest Rogers, Chris Scully, Keith Watts, and Chris Smith. Honorary pallbearers will be his siblings, Leila and Brayden Scully. Memorial contributions may be made in Nolan's honor to: The Hope for Henry Foundation, 2440 Wisconsin Avenue, NW, Second Floor, Washington, DC 20007 or www.hopeforhenry.org. Arrangements by the Brinsfield Funeral Home, P.A.