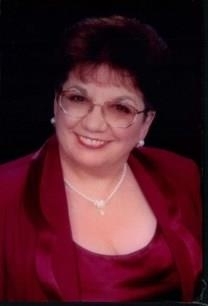 Theresa Eva Post died peacefully on February 3, 2017 at Georgetown University Hospital in Washington, DC at the age of 76. She was born in Fairmont, WV on August 3, 1940 to John and Eva Campione.

Theresa is survived by her husband, James; loving children, Kevin and his wife Robin; Kathy and her husband David Jackson; Chris and his wife Jackie (all from Mechanicsville, MD); five grandchildren, Randy (Jackson) and his wife Laura, Sarah, Joshua, Matthew and Hannah (Post); two great-grandchildren, Chad and Emma (Jackson); and her sister, Sister Carmella Campione of Wheeling, WV.

Theresa's grandkids called her Noni. She adored being with them and always had candy for them when they visited her. She loved the trips we made to Walt Disney World and always cried when it was time to leave Main Street. She was always so proud of the family she created. Watching her children and grandchildren grow up and accomplish things in there life put a huge smile on her face.

Theresa was a Registered Nurse and worked most of her life in pediatrics. She loved the kids she took care of and they loved her too. Often when we were at one of the grandkids sporting or school events, a mom or child would come over and say hi to Nurse Theresa. She was a very special person to all she touched. Theresa was a devout Catholic and prayed the rosary every day. She taught us all that everything that happens in life is Gods will and we should all try to live the life He wants us to live.

Theresa, Mom, Noni, Tootsie, Nurse Theresa, whatever you called her, will be missed terribly. A huge hole has been left in our lives that will be impossible to fill. She is in Heaven now, and is seeing her mother and father again, and all other family and friends that have gone before her, and will be looking down and smiling on us every day.

Visitation will be held on February 8, 2017 from 3:00-7:00 p.m. at the Huntt Funeral Home, Waldorf, MD. A Mass of Christian Burial will take place on February 9, 2017 at 10:00 a.m. at St. Peter's Catholic Church, Waldorf, MD with Fr. Keith Woods presiding. Arrangements by Huntt Funeral Home.