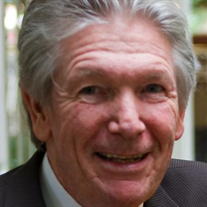 Patrick Joseph Miller, 70, of Dunkirk, MD passed away on February 5, 2017. Patrick was born
in Minnesota to the late Clare K. Miller and Catherine E. Green.

He enjoyed playing Golf, Racquetball, Gardening, and was an avid sports fan always supporting his Minnesota and Maryland home teams and his children's school teams. He was a graduate of University of Minnesota and completed his Master's Studies at University of Oklahoma.

Patrick is survived by his Wife, Cheryl. Children, Megan E. Russo, Krista D. Peterson, Christopher J. Hammond, and Amanda M. Stough. Brothers, John, Mike, Tom, and Richard Miller. Sisters, Theresa Blakeborough, Mary Witte, Eileen Haynes, Dorothy Coward, Margaret Sherman, Cathy Hinz, and Anne Johnsen.

Patrick Miller joined the Air Force in 1969 and served his country with distinction and pride as a member of the United States Air Force. Through his career, he distinguished himself in positions of great sensitivity and responsibility. Thus, Patrick was selected for his final Air Force assignment to fly with the elite 89th Military Airlift Wing.

Major Patrick J. Miller retired with honors from the Air Force in 1989. Among his peers, Patrick was known as a pilot's pilot due to his aviation skill, knowledge, and judgement. Following his Air Force career, Patrick joined United Airlines and flew domestic and international routes until he retired in 2004. Arrangements by Lee Funeral Home.