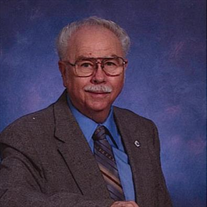 Francis (Frank) Mahlon DePuy, 82, of Solomon's Island, died Saturday, February 4, 2017 at Asbury Solomon's. Born August 31, 1934 in Ellenville, New York he was the son of the late Andrew DePuy and Hulda DePuy.

In 1954, Frank graduated from Ellenville High School and joined the United States Navy. During his naval career, he was stationed in Bainbridge, Maryland, Naval Air Station Atsugi, Japan, Co Nas Agana, Guam, Normin Oklahoma Naval Training and the U.S. Naval Air Station Anacosita, Washington, DC as an Aviation Machinist's Mate R Third Class, U.S. Naval Reserve.

At the age of 16, Frank joined the Ellenville, New York Fire Department as a junior firefighter. He continued his volunteer fire service by joining the Waldorf Volunteer Fire Department in 1966. Frank received his fire fighter training from the University of Maryland and also drove an ambulance for the Red Cross. During his 40 years of volunteer service with the Waldorf Volunteer Fire Department, he held the position of President, Vice President, Treasurer and was on the Board of Directors. Frank retired to Asbury Solomons in 2002. In 1958, he began working for The National Cash Register Co. "NCR" in Rockville, Maryland. He worked there for 35 years, retiring in 1993.

In addition to his parents, he was predeceased by his siblings Ernest DePuy, Janie Dorothy, Raymond Warren DePuy and Violette May DePuy. Mr. DePuy is survived by his wife of 58 years, Janis; two sons, Andrew (Waldorf, Maryland) and Peter ( Warrenton, Virginia); four granddaughters, Amanda Best (Waldorf, Maryland), Adrianna DePuy (Virginia Beach, Virginia), Christina DePuy (Waldorf, Maryland), and Alyssa DePuy (Newburg, Maryland).

Friends and family will be received on Thursday, February 9, 2017 from 2-4PM and 6-8PM with Fireman's Prayer at 7:30PM at New Life Church (La Plata, Maryland) and where Funeral Service will be held on Friday, February 10, 2017 at 10AM. Interment will follow at Trinity Memorial Gardens (Waldorf, Maryland).

In lieu of flowers, the family asks that contributions be made to the Waldorf Volunteer Fire Department (3245 Old Washington Road, Waldorf, Maryland 20603) or Solomons Asbury Benevolent Fund (11100 Asbury Circle, Solomons, Maryland 20688). Arrangements by Raymond Funeral Service.