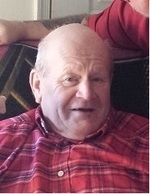 Joseph Howard Raley Jr., "Pop" 80, of Mechanicsville, MD passed away on February 4, 2017 at Hospice House of St. Mary's. Born on April 8, 1936 Joe was the eldest son of Joseph Howard Raley Sr. and Mary Jeanette Russell Raley of Clements, MD. He is preceded in death by his parents and his former sister-in-law, Mary Lee Raley.

He is survived by his four children: Joseph H. Raley, III (DanFesta) of Felton, CA; Christine Raley Page(Chuck) of Berea, KY; Robert R. Raley (Debra) of Mechanicsville, MD and Karen Raley Stinson of Poteau, OK; eight grandchildren: Tristan Raley, Joshua Page, Samantha Page Lyden (Mikel), David Page, Joseph "Christopher" Raley, Benjamin Raley, Shelby Stinson and Raley "Wyatt" Stinson; Three Great-grandchildren: Nathaniel Selby, Raven Raley and Carleigh Lyden. Joe is survived by his siblings: Jean Raley Brown (Ralph); Charles Raley; Carolyn Raley Norris (Bubby); Ten nephews, four nieces and mother of his children, Ruth Anne Graves Raley Hill.

Joe, a lifelong resident of St. Mary's County and avid Redskin fan, worked the farm he grew up on in Clements until March 1976, then moved to a farm in Morganza where he built a home for his family. Joe was a farmer all his life and also worked as a laborer for Gordon H. Ragan Inc., for over 40 years. Joe loved the outdoors, working in his garden, grooming his lawn and was always willing to help a neighbor in need, no job was too small.

The family will receive friends on Wednesday, February 8, 2017 from 5:00 PM-8:00 PM with prayers recited at 7:00 PM in the Mattingley-Gardiner Funeral Home, Leonardtown, MD. A Mass of Christian Burial will be held on Thursday, February 9, 2017 at 10:00 AM in St. Joseph's Catholic Church Morganza, MD with Father Drew Royals officiating. Interment will follow in Sacred Heart Catholic Cemetery, Bushwood, MD. Pallbearers will be: nephews; Charles Ronald, and Thomas Raley; Mark, Gary and Sean Norris. Honorary pallbearers will be: nephews: David and Michael Brown, nieces; Deborah Raley Fenhagen and Diane Brown Gooding.

In lieu of flowers, donations may be made to your local Rescue Squad; Hospice House of St. Mary's, P.O. Box 625, Leonardtown, MD 20650. The Alzheimer's Foundation of America, 322Eighth Ave., 7th Floor, New York, NY 1001; or St. Mary's County Dept. of Aging & Human Services/Meal on Wheels, P.O. Box 653, Leonardtown, MD 20650. Arrangements by Mattingley-Gardiner Funeral Home.