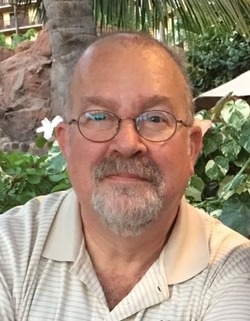 Bruce Talbott Harvey, 60, of Leonardtown, MD died January 27, 2017 at his home. He was born May 3, 1956 in Pittsburg, KS to Velda Ruth McDaniel Harvey of St. Augustine, FL and the late John Frederick Harvey. Bruce was raised in Springfield, PA and is a graduate of Boston University. He enjoyed participating in the Drama Club and performed in many plays and musicals.

On September 13, 1986, he married his beloved wife, Georgia Marie Harvey in Towson, MD. Together they celebrated over 30 wonderful years. He was employed by Venture Source System as a Systems Analyst for over 20 years. As a tech savvy person he loved computers and gadgets. He was an avid reader and voiced many e-books. Bruce was a gourmet cook and loved creating delicious new dishes, including Southern Maryland stuffed ham. Bruce loved going to Disney and spent treasured family vacations there. He was a member of the Knights of Columbus in Parkton, MD, and was the past Grand Knight. He was a member of IEEE (Technical Professional Association) and he was a parishioner of St. Aloysius Catholic Church.

In addition to his mother and beloved wife, Bruce is also survived by his loving daughter, Talia E.A. Harvey of Leonardtown; his brother, Marshall Harvey (Diana) of West Hills, CA, his niece Karen Harvey Jarrett (Sean) and great-niece Liliana of Monrovia, CA, and extended family and friends. He is preceded in death by his father.

Family will receive friends on Wednesday, February 1, 2017 from 9:30 - 11:00 a.m. at St Aloysius Catholic Church, 22800 Washington Street, Leonardtown, MD 20650. A Mass of Christian Burial will be celebrated at 11:00 a.m. by Reverend John Dakes and Reverend David Beaubien. Inurnment will follow at Charles Memorial Gardens, Leonardtown, MD 20650. Memorial Contributions may be made to the American Diabetes Association. https://donations.diabetes.org. Arrangements by the Brinsfield Funeral Home, P.A., Leonardtown, MD.