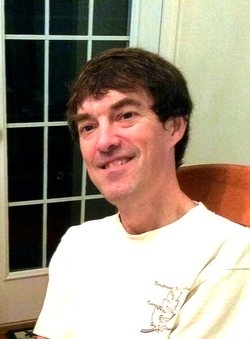 Kerry Eugene Staats, 51, of Lexington Park, MD passed away on January 26, 2017 at his residence surrounded by his loving family. He was born on March 13, 1965 in Springfield, IL to Elsie Imogene Staats of Springfield, IL and the late John Keith Staats.

During his life, Kerry ran 63,206 miles, including 147 marathons. He graduated from Springfield High School in 1983 and Southern Illinois University in Edwardsville, IL. He married his beloved wife, Charlene Mary Novak in 1996. He was employed as an engineer for the U.S. Navy for over 16 years. In addition to running, Kerry also enjoyed biking, swimming and baseball. He loved traveling, especially to the beach with his family. He was also an amateur radio operator extra class with the call sign KA9EKP.

In addition to his mother and wife, Kerry is survived by his daughters, Anna Staats and Emme Staats; his siblings, Keith Staats of Springfield, IL, Kathie Bryant of Springfield, IL, Kevin Staats of Tulsa, OK, Kirk Staats of Sherman, IL and Kelly Staats of Vienna, VA. He is preceded in death by his father.

Family will receive friends for Kerry's Life Celebration on Thursday, February 2, 2017 from 5 to 8 p.m., with prayers recited at 7 p.m. by Pastor Abraham Nuquay, at Brinsfield Funeral Home, 22955 Hollywood Road, Leonardtown, MD 20650. Interment will be held at a later date in Duluth, MN. In lieu of flowers, the family requests memorial contributions be made to the Duke ALS Clinic, 932 Morreene Road, Durham, NC 27705. Arrangements by the Brinsfield Funeral Home, P.A.