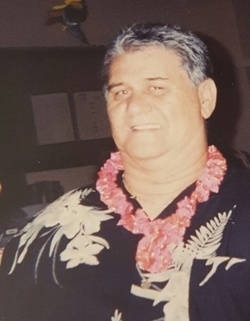 Sherman Blair "Peanut" Clevenger, 73, of Lusby, MD passed away peacefully at his home on January 25, 2017. Born on July 14, 1943 he was the son of the late Anthony Blair Clevenger and Lillian Etta Clark. On July 5, 1974, he married his devoted wife Carol E. Long Clevenger.

Sherman began working at a very young age. He was in the construction industry for 35 years. He later worked as a Building Engineer for 13 years at the College of Southern Maryland, Leonardtown Campus. His favorite job was working at the Georgia Bonded Fibers, Inc. in Buena Vista, VA. He had fond memories of his friends at the paper mill and often shared stories of his time there. Sherman enjoyed country and blue grass music, dancing, fishing, and watching western movies. His greatest joy was spending time with his children, grandchildren, and his dog Whiskey River.

Preceded in death by his parents, sister, Nancy C. Green, and grandson, Nicholas John Blair Marshall. Sherman is survived by his wife Carol; daughters, Angelia "Angel" Willett (Chester), Regina S. Clevenger; his sons, Anthony B. Clevenger (Jessie) and Claude E. Clevenger (Mary); sister, Diana Clevenger, of Buena Vista, VA., and brother, Jack Clevenger of Dandridge, TN; 12 grandchildren, 8 great-grandchildren and a host of nieces and nephews.

Family will receive friends at Brinsfield-Echols Funeral Home, 30195 Three Notch Road, Charlotte Hall, on Wednesday, February 1, 2017 from 5-8PM. Prayer Service begins at 7PM with Chaplain Bill Miller officiating. Memorial donations can be made in Sherman's name to Calvert Hospice, P.O. Box 838, Prince Frederick, MD 20678 or Humane Society of Charles County, 71 Industrial Park Drive Waldorf, MD 20602. Arrangements by Brinsfield-Echols Funeral Home.