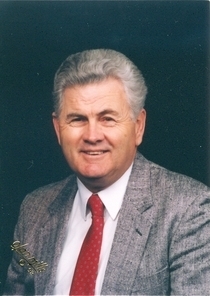 J. B. "Just Beautiful", 81, born July 9, 1935 in Beargrass, N.C. and passed away January 23, 2017. He spent most of his younger years in the Tidewater area of VA. The last 30 years he has been a resident of La Plata, MD.

Preceded in death by parents, Hubert Harris and Letha Harris; sister, Ethel Harris Smith; brother, Dillon Harris. He is survived by his faithful and devoted wife, Laura Oliver Harris of 39 years; son, Bryant Harris (Linda) of Acworth, GA; stepson, Joey Luther (Julio) of NYC; grandchildren, Jennifer and Christopher Harris, also of Acworth, GA.

In 1954 J.B. became a golf professional, then became a member of the PGA in 1965 and remained a lifetime member. He was the resident pro at Elizabeth Manor CC, Portsmouth, VA; Cedar Point CC, Suffolk, VA; Stumpy Lake GC, Virginia Beach, VA. He was co-owner of Golfland in Smithfield, VA before relocating to Hawthorne CC in LaPlata, MD. Even throughout his retirement he continued to do the thing he loved most about the game, which was teaching others how to play. He was notorious for his teaching skills as a golf pro and his ability to put a smile on everyone's face with his unique humor.

His efforts to organize charity golf tournaments benefited many organizations including FCA, Catholic Charities, Hospice, Children's Aid, among many others. J.B. was a devout Christian and member of First Baptist Church of La Plata and was a regular speaker at many local churches. He often spoke how he did not begin to really live until he gave his life to the Lord in 1982 at the age of 47.

The family will receive friends on Saturday, January 28, 2017 at First Baptist Church of La Plata (9070 Hawthorne Rd., La Plata, MD) from 10:30 a.m. until time of Funeral Service at 12 Noon; Interment to follow at Trinity Memorial Gardens. Arrangements by Arehart Echols Funeral Home.