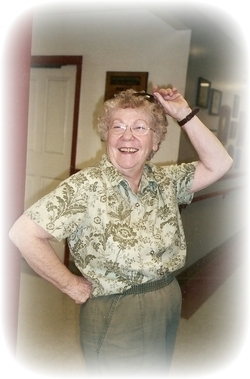 Ellen Ann Havens, 83, of Dameron, MD died Monday, January 16th from complications of Alzheimers with her family by her side. Ellen was born on May 5, 1933 in Macon, Missouri to the late Charles Albert Powell and Betty Moore McCutchan. She was the youngest of five children, all of whom are predeceased. Orphaned at 5, she was put through school by her "Old Maid Aunties," two brothers and a sister fifteen years her senior. She attended classes in Macon and Columbia, Missouri, Fayetteville, Arkansas and Washington and Lee High School in Arlington, Virginia.

After graduation Ellen began working as copy girl for the Evening Star newspaper in Washington D.C. where she met her future husband George Havens, a photo journalist. When George began working for the U.S. State Department Information Agency, the family began traveling the world. Ellen accompanied her husband to assignments in the Philippines, Laos, South Vietnam, Liberia, Tanzania, and Pakistan. Between assignments the family vacationed in Scotland, MD falling in love with the area and purchasing a house in Dameron. Upon returning stateside, Ellen taught school in Waldorf. She worked as an administrative assistant in the financial aid office of St. Mary's College. Later at Historic St. Maries City, she worked at the visitor center greeting many visitors.

Ellen followed in her mother and sister's footsteps by joining P.E.O., an organization that celebrates and promotes the advancement of women. Ellen became a member of Chapter AA D.C. prior to her world travels and later joined Chapter AC Solomons. After retiring, Ellen enjoyed visiting ocean beaches, gardening, camping and spending time with her grandchildren.

Surviving are her children, George "Pat" Havens of Lusby, Bibiana Cohey of Crisfield, Gregory (April) Havens of Dameron, Elizabeth Dickson of Dameron, Betty Ann Havens of Burtonsville, Julie Havens of Leonardtown and daughter-in-law Melissa (Geoffery) Havens of Mechanicsville, 11 grandchildren and 6 great-grandchildren. In addition to her parents, she is preceded in death by her husband George W. Havens, and a son, Geoffery Paul Havens.

Family will receive friends on Friday, January 27, 2017 from 10:00 to 11:00 a.m., with a Life Celebration Service of Remembrance at 11:00 a.m., at the Brinsfield Funeral Home, 22955 Hollywood Road, Leonardtown, MD 20650. Interment will be private. In lieu of flowers, memorial contributions may be made to the Alzheimer's Association of Maryland, 10665 Stanhaven Place, Suite 205D, White Plains, MD 20695. Arrangements by Brinsfield Funeral Home, P.A.