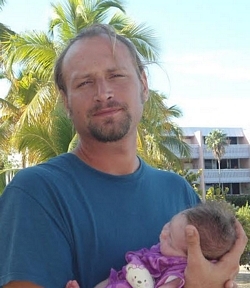 Kendall Thomas Ihnacik was born on February 27th, 1982 to John and Terri Ihnacik. From an early age he showed a love for the written word, a curiosity for the natural world, and a drive to explore. He was a talented athlete and succeeded in soccer, basketball, and swimming. Always a free spirited person, he was unbound by convention. He was expressive; never afraid to challenge what he saw as unjust. Kendall followed his own compass.

He struck off on his own at the age of 19 to start a new chapter of his life in the US Virgin Islands. In the Caribbean, he enjoyed sailing, exploring coral reefs and colonial ruins, and absorbing the immense beauty of the sea. Surrounding himself with a cast of other free spirited characters, he built friendships and met his wife, Lauren Nicole Garrison. Upon the birth of his daughter, Isla, he and his young family moved to Baltimore, Md.

Kendall was a true craftsman, a culinary artist, and a practical intellectual. Kendall loved the sea; he loved to read; and he loved to cook. Above all, he loved his family. He was lost from this world too soon. He will be dearly missed by many. His memory lives on in the hearts and memories of those who loved him; and his spirit lives on through his beautiful daughter Isla Ihnacik.

The family will receive friends on Tuesday, January 24, 2017 at the Rausch Funeral Home, 4405 Broomes Island Road , Port Republic, MD fro 5-8 PM Memorial Mass will be offered on Wednesday January 25, 2017, 11 AM at Our Lady Star of the Sea Catholic Church in Solomons, MD. Inurnment will follow in the church columbarium. Arrangements by Rausch Funeral Home.