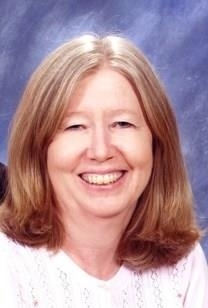 Kathryn (Kathy) Peters, loving wife, mother, grandmother and friend, passed away on January 15, 2017 after a battle with pancreatic cancer, she was 64 years of age. Kathy was a longtime citizen of Charles County, MD. Kathy was born on April 29, 1952 in Tampa, FL to Benjamin and Shirley Brown.

She and her sisters were part of a military family, and lived in Puerto Rico, California, Italy, Texas, and the Philippines before settling down in Maryland. She met her husband, Douglas Peters while working at Andrews Air Force base in 1969, and they were married in 1971. Together, they had three children, Stacy Feldman, Kristy Bramell, and Douglas Peters.

Kathy held several jobs including being a cashier both at the Andrews AFB Commissary and NCO club, and a Budget Analyst for the Federal Government where she was awarded the 1998 Civilian employee of the Year. She was devoted to her children and grandchildren, as well as her Calvary United Methodist Church family. She volunteered at the church food bank, and at the University of Maryland Charles Regional Medical Center gift shop.

She is survived by her loving husband, Doug Peters, her children and spouses, Stacy and Jeff Feldman of Mechanicsville, MD, Kristy and Brian Bramell of Nanjemoy, MD, and Doug and Rebecca Peters of California, MD. She is also survived by her grandchildren: Ryan and Hannah Feldman, Grayson and Kaelyn Bramell, and Brennan and Ali Peters, as well as her sister and brother in law Debbie and David Heil. She is preceded in death by: her parents Benjamin and Shirley Brown, and her sister Benji Shepherd.

A memorial service will be held on January 28, 2017 at the Calvary United Methodist Church located at 3235 Leonardtown Road, Waldorf, MD at 11:00 AM. In lieu of flowers, the family asks donations be made to Hospice of Charles County in memory of Kathryn Peters. Arrangements by Huntt Funeral Home.