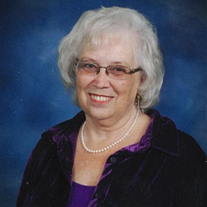 Helen Augusta Douglas, 73, of Waldorf, Maryland, ascended to Heaven on Sunday, January 15, 2017 at her home. Born on October 30, 1943 in Herkimer, New York she was the daughter of the late George and Lois MacFarland. She is survived by her husband of 51 years, Stuart Douglas; her four children: Stephen, Ruth, James and Susan as well as nine grandchildren.

Mrs. Douglas was a faithful member of La Plata United Methodist Church. She enjoyed photography, travel, and learning about historical events. Mrs. Douglas retired from the United States Capitol Police Office of the Chief. During her years there she participated in many events such as Presidential Inaugurations, State of the Union Addresses, and the Laying in State of various individuals.

A visitation will be held on Saturday, January 21, 2017 from 10 AM to 11 AM with Services beginning at 11 AM at the La Plata United Methodist Church 3 Port Tobacco Road La Plata, Maryland 20646 with the Reverend Bruce Jones officiating. Interment to follow at the Dentsville Methodist Cemetery. Arrangements by Raymond Funeral Service.