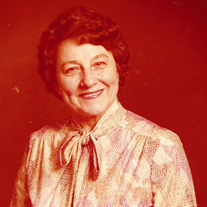 Myrtle Mary Boswell, 101, of La Plata, Maryland died January 13, 2017. She was the daughter of William Edward Hamilton and Nettie A. Boswell Hamilton. In addition to her parents, she was predeceased by her husband, William John Boswell; her daughters, Patricia A. Harris and Betty J. Pinciaro; her son-in-law, William E. Harris; six brothers; and eight sisters.

Myrtle was a Sales Manager for 22 years with the Hecht Company in Washington, DC. She loved baking, cooking, crafts, and reading. She is survived by her sons, Michael A. Boswell (Lee) and Richard J. Boswell (Teresa); her daughter, Joan B. Harris; 13 grandchildren, 19 great-grandchildren; and 20 great-great-grandchildren.

Friends received on Friday, January 20, 2017 from 3-5PM with a Wake Service at 5PM at Raymond Funeral Service, 5635 Washington Avenue, La Plata, Maryland 20646. Interment on Saturday, January 21, 2017 at 10AM at Cedar Hill Cemetery in Suitland, Maryland. Arrangements by Raymond Funeral Service.