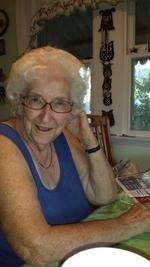 Juanita "Leone" Linkous, 83, of Bushwood, MD passed away on January 14, 2017 at her residence. Born on March 25, 1933 at home in Canaan Valley, WV she was the middle child of the late Dale and Martha Ault. She was the first of the girls to be delivered by a real doctor. Leone is preceded in death by her siblings: Eleanor Ruth Ault, Audrey Eileen Ault and Robert Ault.

Leone's early schooling was a one room school house and she attended high school in Davis, WV. She graduated 2nd in her class. After graduation she moved to D.C. and worked for the Government. Soon thereafter she married Darrel Lantz. Darrel was killed in a car accident and Leone continued to work for the Government. She said she got her job due to doing a crossword puzzle as she waited to be interviewed. Her boss saw her, and he was a puzzle doer as well and the job was hers.

Time passed and Leone met a young Air Force guy named Ron Linkous. They married and were blessed with a son Mike. Unfortunately, Mike passed all too soon due to a hit and run accident, he was 7 years old. Time passed and Leone and Ronnie moved to Brandywine, MD. When both of them retired they moved to be on the water in Bushwood, MD. This way she could have all the live crabs she wanted!

The family will receive friends on Tuesday, January 17, 2017 from 5:00 PM-8:00 PM in the Mattingley-Gardiner Funeral Home. A Funeral Service will be conducted in the funeral home chapel at 7:00 PM with Pastor Ruth Dixon officiating. Interment will be held on Wednesday, January 18, 2017 at 11:00 AM in Bueana Chapel Cemetery Canaan Heights, WV. Arrangements by Mattingley-Gardiner Funeral Home.